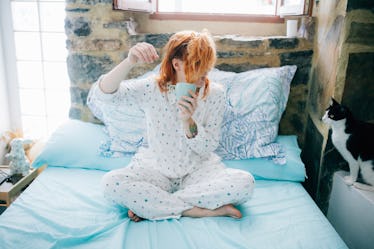 5 Creative & Believable Excuses To Use When You Want To Ditch A Plan
If you have a lot of friends and a hectic schedule, making plans can be a challenge. It's so easy to over-commit and leave yourself with way too many plans and absolutely no free time. In the moment, what you really want to do is go out drinking with the girls or see a late-night movie. But unfortunately, when it comes to the day of, ditching the plan so you can chill home and watch a movie on the couch sounds a lot more appealing. If you relate to this, you may be wondering how to get out of plans seamlessly when you're just not about them.
It's really nothing personal. It's just that, between work and all of your other responsibilities, you've had almost no time to yourself, and the last thing that you want to do is leave your bed, get ready, and go out for an undetermined amount of time. If you can't already tell, I've been there, too.
Sometimes, no matter how mad your friends might be, the best option for your sanity is to just ditch the plan. And, obviously, you don't want to straight-up admit that you just want to relax instead. Once in a blue moon you need an excuse that's a bit more tactful than that. You need an alibi so good your friends will understand immediately. These five plan-ditching excuses are for these times and these times only. Use them wisely, friends.