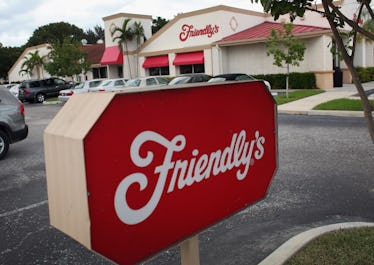 Friendly's Is Offering Ice Cream Cones For 83 Cents Today & BRB, I'm On My Way
Joe Raedle/Getty Images News/Getty Images
To me, a sweet ice cream deal is like the cherry on top of a perfect day. There's nothing like snacking on your favorite frozen flavor at a cheap cost, and Friendly's understands. In fact, the company is currently offering a delicious deal that'll get you a scoop for less than a dollar. So, dig up the change at the bottom of your purse and head to your local restaurant. I'm about to tell you how to get an 83-cent ice cream cone from Friendly's on Wednesday, July 18. You'll be pleasantly surprised at how easily you can score one.
I'm not kidding; all you have to do is show up. That's literally it. There aren't any codes you need to give your waiter, or coupons you need to rip out of the newspaper. Friendly's is well aware of the deal, and announced the promotion on their Facebook and Twitter pages on Wednesday morning. In both posts, the restaurant encouraged customers to stop by Friendly's on July 18. Those who do so will get a Single Scoop Cone for 83 cents. The company wasn't clear about a particular time frame for the deal, but I called my local Friendly's to check. Apparently, restaurants are selling the cones for 83 cents from open to close.
In other words, there's still time. Stop by after work for an 83-cent cone of your favorite flavor. (You're welcome.)
By now, you're probably wondering why Friendly's is even offering this deal in the first place. The company is currently celebrating its 83rd anniversary, and what better way to celebrate than with an irresistible ice cream deal? By grabbing a cone for 83 cents, you're honoring the restaurant's 83rd year on this planet. That's a pretty huge deal, and I'm excited to raise a cone to Friendly's.
Seeing that the restaurant is known for its ice cream flavors and sundaes, this birthday deal makes total sense. For those curious about the options available, rest assured the company's website provides a list of ice cream flavors that you can choose from. FYI, the selections will convince you to stop by for a scoop. After scanning the list, I'd love to try a cone of the Brownie Batter or the Rockin' Poppin' Cotton Candy. (You can totally get basic flavors, too. I'm just really adventurous when it comes to ice cream.)
If you haven't done so already, plan your trip to Friendly's ASAP. However, keep in mind that you'll have to get there before the restaurant closes on Wednesday, July 18 to take advantage of the deal. If you can't make it for the discount, you can always stop by another time and try one of their over-the-top sundaes, like the "I Kid You Nut" or the "Batter Up." Either way, it's a win-win. You can't go wrong with a scoop (or sundae) from Friendly's.
In order to find your local Friendly's and participate in their anniversary deal, you can locate the closest restaurant to you on their website. All you have to do is enter your zip code, and the closest establishment in your vicinity will populate on your screen.
Call your friends, fill the car, and take a trip. While you're there, try the Rockin' Poppin' Cotton Candy for me.