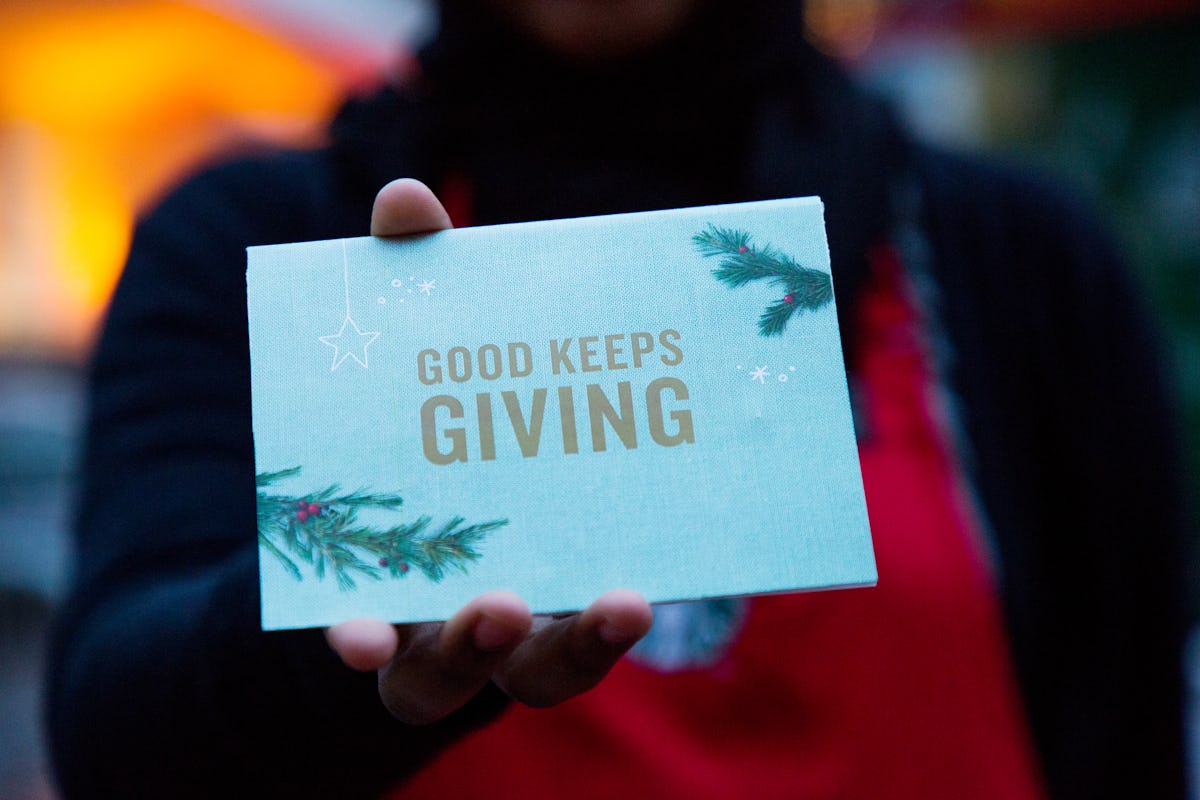 Starbucks Is Giving Away Free Gift Cards This Season & Here's How You Can Get One
Between buying gifts for friends and family, traveling and getting that last bit of work done before your Christmas break, the holidays can be extremely stressful, and quite honestly exhausting. But, praise Coffee Claus, because caffeine is potentially one less thing to worry about this season. Just find out how to get free Starbucks gift cards between December 11-23, (hint: it's by spreading that good old-fashioned holiday cheer).
Baristas in holiday-ready red and green aprons will be hopping through tree lighting ceremonies, caroling groups, and other public holiday festivities — and they'll be handing out $20 gift certificates to 50,000 people in varying locations. If you weren't already feeling that good old holiday cheer, now is definitely the right time to get out, spread some Christmas spirit, and potentially be graced with some free Starbucks love.
"The inspiration behind Project Give Good is simple, we want to brighten the holidays and delight our customers," said Kris Engskov, Starbucks' executive vice president of U.S. Retail, in a press release. "We hope the gift of a Starbucks Card will give customers the opportunity to take a break or catch up with a loved one over coffee."
If you're thinking about throwing your own holiday event for your community and want Give Good to come through, go to your local Starbucks between Dec. 4 and Dec. 8 and share your event with employees. Your holiday party just might be further embellished with some extra holiday cheer, Starbucks-style.
Starbucks is also spreading the love to anyone who downloads and uses their app this month. Upon downloading and using the app, new users will be able to receive automatic Gold Status for an entire year. (If you're living under a caffeine-less rock don't already know of the revered 'Gold Status,' it means that you can get free food and drinks by collecting gold stars through purchases.) Free Gold Status is a pretty great title to have, so make sure to treat yourself and to download that app (it's free!).
Also, for Rewards Members, Starbucks has created a "Starbucks for Life" sweepstakes, which started Dec. 5. Rewards Members can win prizes, such as Starbucks for Life, Starbucks for a Year, Starbucks for a Month, Starbucks for a Week, and even millions of Bonus Stars. This year, Starbucks has created new challenges and rewards to win food, beverages and even select merchandise. Non-Rewards customers can now also enter their email address for a chance to win a Starbucks for Life prize.
Speaking of holiday cheer, Starbucks deserves a mega-shoutout for emphasizing creativity this holiday season, after introducing their new, festive AF color-in cups.
"This year's cup is intentionally designed to encourage our customers to add their own color and illustrations," said Starbucks' executive creative director, Leanne Fremar.
After holding their annual cup design contest, Jordan Kay from Starbucks' Creative Studio was the winning illustrator for this year's holiday cups. Don't forget your crayons for your next Starbucks visit for a little extra creative Christmas fun.
If Give Good and color-in cups weren't spreading enough holiday cheer, Starbucks brought back their classic seasonal holiday-favorites on Nov. 1. Between Peppermint Mochas and Holiday Flat Whites, as well as Chestnut Praline, Caramel Brulee, Gingerbread, and Eggnog Lattes, Starbucks lovers and holiday fanatics have been waiting all year to sip away on their favorite holiday-spiced beverages, and they're finally here.
And, if you prefer brewing your favorite holiday drinks at home, Starbucks also sells seasonal brews in select stores. But make sure to find participating locations near you before seeking them out, because different stores are selling different flavors.
So if Mariah's beloved "All I Want For Christmas," and Freeform's classic 25 Days haven't already raised your spirits, hopefully Starbucks is preparing you for this holiday season.
Check out the entire Gen Why series and other videos on Facebook and the Bustle app across Apple TV, Roku, and Amazon Fire TV.