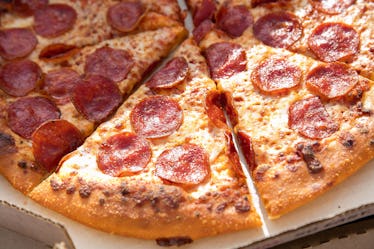 Pizza Hut Is Giving Away Free Pies If This One Thing Happens During The Super Bowl
Jeff Schear/Getty Images Entertainment/Getty Images
OK, real talk: The only reason I attend Super Bowl parties is for the food (sorry, @myfriends). But among an endless slew of nachos, tacos, pigs in blankets, and wings, sometimes vegetarians — like myself — are left in the dust (am I right?). But the good news is that there's a way to get free Pizza Hut pizza during the Super Bowl this year, and it seriously gives me, my fellow herbivores, and every pizza lover some deliciously cheesy Super Bowl alternatives while celebrating the number one best food holiday of the year. Needless to say, I'm pretty stoked.
In life, there's nothing better than pizza, especially when it's free. But now, you're probably wondering how to win a free Pizza Hut pizza pie. According to Pizza Hut's press release, if the record for the fastest touchdown in Super Bowl history is broken during the game on Feb. 4, Pizza Hut will be giving out free medium, two-topping pizzas to Hut Reward members. It's literally that simple — so for real, bring on the grease.
The fastest touchdown record, per the release, is a quick 14 seconds. It's held by former NFL player, Devin Hester, during a game way back in 2007. Hester has officially teamed up with Pizza Hut to celebrate this magical offer, because honestly, even if you're super famous from playing in the NFL, you're still obvi down for some free 'za.
To potentially win, Hester is instructing fans to join Pizza Hut's loyalty program, known as Hut Rewards, before kickoff. Those who become or already are Hut Rewards members prior to 6:26 p.m. ET on Feb. 4 will receive a free two-topping medium pizza, as long as the Eagles or Patriots beat the touchdown record. Members can redeem their free pie between Feb. 8 and Feb. 11. So... Brady? Wentz? Get on this, please. I really do not care who wins the overall game (since the Bills are out, of course), but I'm really rooting for one of you guys to just beat that damn touchdown record.
In a statement, Hester said,
Like I said in my retirement announcement, I owe it all to my speed. I'm teaming up with Pizza Hut to challenge players in this year's Big Game to score a touchdown faster than I did in 2007. If they do, and I hope they do, Hut Rewards members will earn free pizza.
So, I'm obviously Hester's biggest fan now, because that's my perfect idea of a game day reward. I do not need free tickets to the game, I just really couldn't be more satisfied with my own free pizza pie. And, on another note, according to Pizza Hut's release, the Super Bowl is one of the biggest holidays for pizza delivery all year (which makes sense). Based on this statistic, Pizza Hut predicts they'll be selling over two million pizzas during the game, which actually isn't an exaggeration. It's really no surprise, though, because pizza is the best while watching sports (or doing anything, really).
So when the record for fastest touchdown does get broken (since I'm really trying to stay positive for the free 'za), I will already be a Hut Rewards member. There's no way I'll miss out on getting my own, personal pizza pie. As the great Bill Murray says, "Every pizza is a personal pizza if you try hard enough and believe in yourself." I can already taste the gooey cheese, those meaty mushrooms, and the spicy peppers. I literally can't even think about it; free pizza is the best. What an unthinkable dream come true.
Check out the entire Gen Why series and other videos on Facebook and the Bustle app across Apple TV, Roku, and Amazon Fire TV.