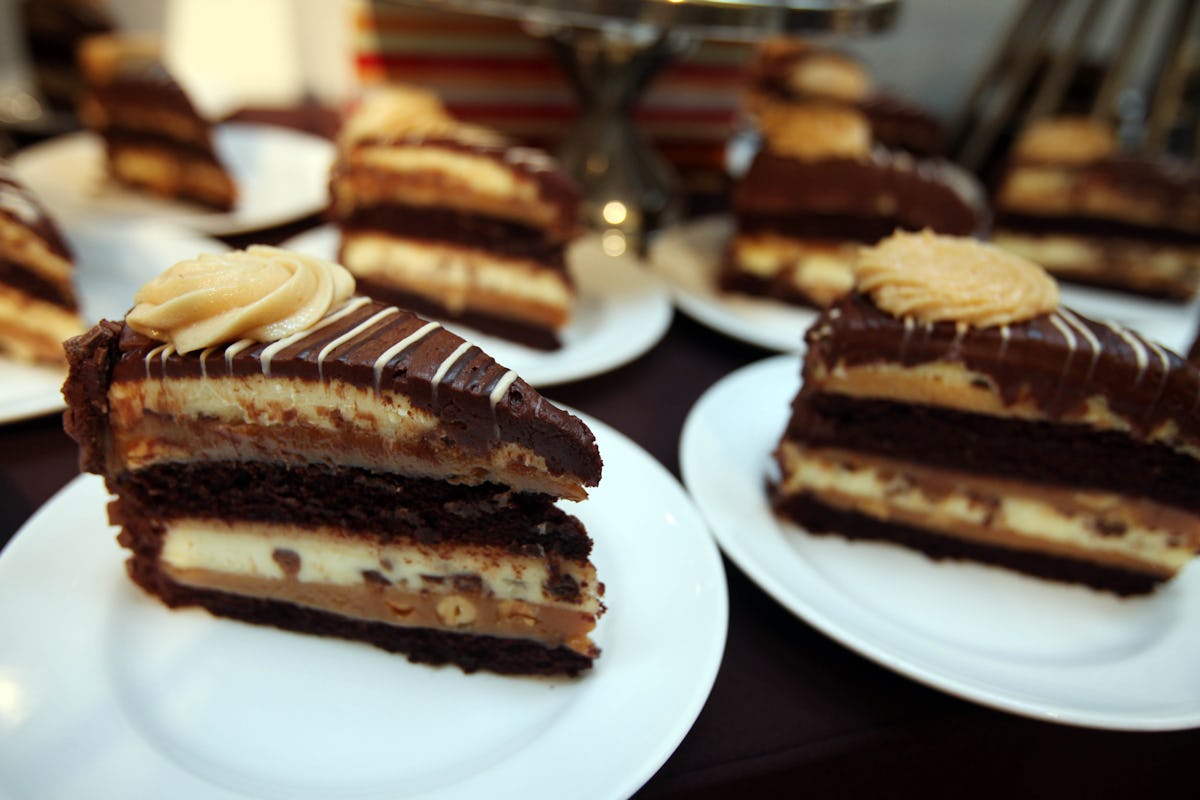 The Cheesecake Factory Is Giving Away Free Cheesecake & Here's How To Get A Slice
Tasos Katopodis/Getty Images Entertainment/Getty Images
Wednesday, Dec. 6 is your lucky day if you dream about sweet, fluffy cheesecake on a regular basis. Why? Because if you're lucky enough, you'll be able to get a free slice from your go-to dessert spot: The Cheesecake Factory. That's right, the restaurant chain is giving away 10,000 slices of cheesecake on Wednesday, Dec. 6 in honor of their "Day of 10,000 Slices," which is taking place right now (yes, right now). If you're wondering how to get free cheesecake from The Cheesecake Factory, pick up your phone immediately and follow my lead.
First, you'll need to get DoorDash on your phone — because they teamed up with The Cheesecake Factory to make this glorious cheesecake special a possibility. Once you have DoorDash open, you'll need to order takeout from The Cheesecake Factory (yum), and use the code "10000SLICES" at checkout. In other words, you'll be treating yourself to a delicious meal and free cheesecake with the press of a button. To be honest, I can't think of a better way to spend my Tuesday.
Before you get too excited about unlimited free cheesecake, keep in mind this special is only happening on Dec. 6. Plus, each customer is limited to one cheesecake slice per order, Insider reports. Your order must be up to an $8.50 value for the special to work.
Earlier this week, The Cheesecake Factory's Instagram shared a photo of a colorful cheesecake slice to hype up their dessert-loving audience. The post's description says, "Get ready! December 6th is Day of #10000Slices! We're partnering with @doordash to give away free slices* of #cheesecake! That's right! FREE! You don't need to purchase anything else! Find out how to get yours."
It looks delicious, and I think I'm about to order The Cheesecake Factory for dinner.
If you're also planning on devouring a sweet piece of cheesecake on Wednesday night, I have good news. The special is available in 70 different cities which include San Francisco, New York, Miami, Los Angeles, Los Vegas, Chicago, and Dallas. In other words, most of the major U.S. cities are covered — so it's time to get excited
According to Insider, The Cheesecake Factory's CEO, David Overton said in a statement, "We are so pleased to partner with DoorDash to surprise and delight 10,000 of our loyal fans and guests by delivering a complimentary slice of cheesecake on December 6. We hope they can enjoy a slice of their favorite cheesecake to celebrate the season of giving."
I don't know about you, but I'm extremely grateful for their cheesecake generosity.
So, what are you waiting for? Download DoorDash on your phone or visit their website at DoorDash.com, and order your favorite takeout. It's the holiday season, also known as the perfect time to treat yourself.
This isn't the first time DoorDash has gone above and beyond to make their customers happy. The thoughtful food delivery service also delivered free dessert during the solar eclipse back in August. However, instead of delivering slices of cheesecake, they delivered black and white "Half Moon" cookies (how fitting). Customers were granted one cookie per order if they went into DoorDash's "Eclipse Cookie Store" before checkout. There, they were able to add a free cookie to their cart.
By now, we're super appreciative that DoorDash knows how much we love free sweets. To kick off the holiday season, treat yourself to a Cheesecake Factory meal and enjoy a slice on them. I know I'm definitely go to.
Check out the entire Gen Why series and other videos on Facebook and the Bustle app across Apple TV, Roku, and Amazon Fire TV.