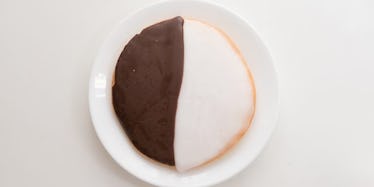 This Company Will Send Free Half Moon Cookies To Your Doorstep During The Eclipse
Rachel Moon/ Shutterstock
The upcoming solar eclipse on Monday, Aug. 21, is set to be a truly memorable experience -- especially if you live the area between Oregon and South Carolina that'll experience a total eclipse. That said, you'll need some snacks to celebrate the momentous occasion (even if your view is less than stellar), and guess what? You can get free cookies from DoorDash during the eclipse. Be still, my astrology-loving heart!
To get your completely free "Half Moon" cookie (there's a one per order limit), you'll need to download DoorDash, a food delivery app. Once it's done downloading, open it up and find a section labeled "The Eclipse Cookie Store." Add the $0 black and white cookie to your cart and checkout. That's literally it! Your cookie will be delivered ASAP.
Even if you don't live near the viewing zone, a DoorDash spokesperson tells Elite Daily that customers in major cities with limited views of the impending eclipse (i.e. New York City, Boston, and Washington D.C.) will also be able to take advantage of the deal.
Anyway, once you've got your cookie, wherever you are, all that's left to do is enjoy it as the rare, 3-minute event takes place in the sky.
Warning: Another eclipse won't happen for another seven years (in 2024), so be sure your viewing glasses are smudge-free if you're expecting to see it IRL.
Beyond cookies, it makes sense to have other sun- and moon-themed snacks on deck for the solar eclipse.
Here are my suggestions: Sun Chips (Original is good but Garden Salsa is the best, in my opinion), SunnyD, and Moon Pies. They're all super tasty and will pair wonderfully with that free black and white cookie.
While you're enjoying your junk food on Monday, don't forget to think positive thoughts, as the spiritual energy is expected to be wild during the eclipse — you know, if you believe in that sort of stuff.