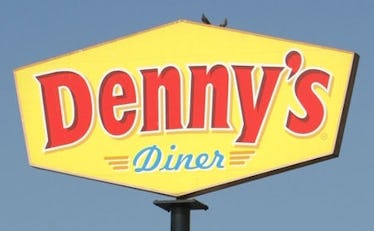 Denny's Is Giving Away Free Breakfast If You Do One Simple Thing
Justin Sullivan/Getty Images News/Getty Images
Where my breakfast heads at?! Not only is breakfast the most important meal of the day, but for many, it's the best meal of the day. Whether you prefer pancakes and waffles, sausage and bacon, or hash browns and home fries, there's no better way to start your day than with a hearty breakfast. Now, thanks to Denny's, it's easier than ever. Here's how to get a free breakfast at Denny's so you can jump start your day Ron Swanson-style.
Denny's is currently offering free "Build Your Own Grand Slams", according to Food & Wine. To get yours, all you have to do is download the Denny's On Demand app (which you may already have if you're a real foodie) from iTunes or the Google Play Store. iPhone or Android, we all love a good deal. Place any order using the app, and earn a free Build Your Own Grand Slam on your next mobile or online order. Delicious and easy? Sign me up. You can also place your order on the Denny's website if your phone is out of storage from all of your other food apps. Just make sure you log on soon, as this offer only lasts until Jan. 31.
One other thing to note about this deal is that it's only valid with takeout or delivery orders (where available). So unfortunately, you can't eat your free Grand Slam in the comfort of a Denny's, but you can enjoy the luxury of someone bringing a delicious Grand Slam right to your bed — or at least to your front door.
If you've never had a Denny's Grand Slam, or you don't even know what a Grand Slam is, first of all, how dare you? Second of all, allow me to explain. My university had a Denny's on campus, so I'm well-versed in Denny's culture, whose epicenter is the Grand Slam.
The Grand Slam is the pinnacle of all breakfast combos. You've got your starch, you've got your meats, and you've got your eggs. The classic Slam comes with two large, fluffy buttermilk pancakes, two sausage links, two strips of bacon, and two eggs sunny-side-up. But this deal isn't for just any old Grand Slam — this one is customizable, so the breakfast world is your oyster.
According to the Denny's website, you can pick any four of the following items: eggs (any style), pancakes, bacon, sausage, potatoes, toast, an English muffin, and a buttermilk biscuit. There are a number of specialty items for an extra 89 cents as well, including yogurt, fresh fruit, and a grilled ham slice. Oatmeal and grits are also available, but only between 6 a.m. and 2 p.m. And even though the original Build Your Own Grand Slam only comes with four items, you can order an extra two items for an additional 69 cents each, if you're really hungry (which you probably are after reading all of this — sorry).
The availability of specific menu items will vary by location, so make sure you check to see what your Denny's is serving up. You've been warned.
You might be thinking to yourself, "No one orders a full Grand Slam to go. That's just silly." Well, dear reader, that's where you're wrong. The Denny's website claims that the Build Your Own Grand Slam is a "To-Go Favorite," so there should be no shame in your breakfast game.
If you're strictly a pancake person and don't need all the extra sides and whatnot, consider checking out IHOP's "All You Can Eat" pancake deal for just $3.99. You can get unlimited short stacks (two pancakes) or regular stacks (five pancakes), depending on what you prefer, until Feb. 11. Sounds like my New Year's resolutions will have to wait a bit.
Check out the entire Gen Why series and other videos on Facebook and the Bustle app across Apple TV, Roku, and Amazon Fire TV.