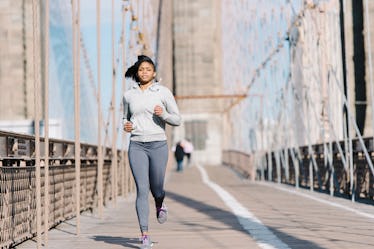 6 Workouts That Give You The "Runner's High" Without Actually Having To Run
Maybe you've experienced this. You've been pounding the pavement for nearly an hour on a long run when you start to feel freaking fantastic. Like, life is beautiful, you're somehow confident that everything is going to be OK, you feel like you might have the ability to fly. These good vibes are known as a runner's high. Now, I personally love that feeling. I crave that high after a stressful day of work. But because I don't always feel like getting on a treadmill or taking a long loop around the park, I've had to learn how to get a runner's high without actually running. And, let me tell you friends, it's totally possible.
First off, just as a little background, there really is some science to back up the runner's high phenomenon. It's characterized by a euphoric feeling, a reduction in stress and anxiety, and an actual drop in your ability to feel pain after extended aerobic exercise. While it's been long understood that this has to do with the release of things like opioid peptides and endorphins (both of which aid in creating an opiate effect, or "high," in the brain), some research also supports the idea that the endocannabinoid system in the brain (aka the part of your brain that feels pretty groovy after smoking pot) might also be playing a role in those positive vibes.
But the point is, my friends, you can get that rush of endorphins and pseudo-high from a number of different workouts — not just from running. Here are a few for you to try out.