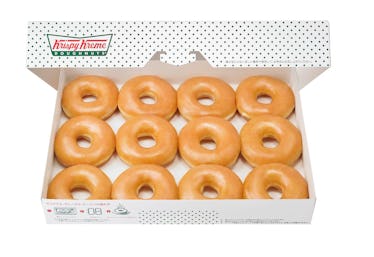 Krispy Kreme Has $1 Glazed Doughnuts For Its Birthday & Here's How To Get Them
When I think about birthday treats, usually a cake or cupcakes topped with candles come to mind. Even so, it makes sense that Krispy Kreme would celebrate its 81st birthday with none other than its delicious Original Glazed Doughnut. Nothing is better for a sweet breakfast (or anytime) craving than a warm Krispy Kreme doughnut, and the doughnut chain is offering you a sweet deal on them to help ring in 81 years of serving up the crave-worthy confections. Here's how to get $1 Krispy Kreme doughnuts for a tasty celebration.
According to a press release on Monday, July 23, Krispy Kreme is excited to offer its customers a sweet BOGO deal on its tasty doughnuts to kick off the birthday fun. On Friday, July 27, you can buy one dozen of the Original Glazed Doughnuts for only $1 when you also purchase another dozen doughnuts of any kind. Seriously, all you need to do is buy 12 Krispy Kreme doughnuts of any variety on July 27, and then a box of a dozen Original Glazed Doughnuts is all yours for just a buck.
The deal is good for one day only on Friday, July 27 at participating locations in the United States and Canada, so make sure that you set your alarm for an early Krispy Kreme breakfast run.
Krispy Kreme is also offering a brand-new doughnut that is very fitting for the birthday festivities. From Friday, July 27 through Thursday, Aug. 2, Krispy Kreme will sell its new Glazed Confetti Doughnut. In a nod to the traditional birthday cake, Krispy Kreme's Glazed Confetti Doughnut starts out with a vanilla birthday cake flavored dough that is dotted with confetti sprinkles, and it's topped with Original Glaze and vibrantly colored sprinkles, per the release.
The Glazed Confetti Doughnut is available for one week only, while supplies last at participating Krispy Kreme locations. Seeing as though this celebratory doughnut debuts on the BOGO deal on Friday, you could even stock up with a dozen of them in order to get your $1 dozen of Original Glazed.
Mike Tattersfield, Chief Executive Officer of Krispy Kreme Doughnuts, explained in the press release how the brand is excited to celebrate its birthday with its one-dollar deal and a new delicious doughnut. He shared,
One of our favorite times during the year is when we get to celebrate our birthday with our fans. In addition to offering a delicious dollar deal on an extra dozen of our Original Glazed Doughnuts, we've 'birthday-ed' up our awesome Original Glazed Doughnut, creating a whole new experience.
Honestly, the Glazed Confetti Doughnut looks like a party-worthy treat, and it sounds like a delicious way to celebrate 81 years of Krispy Kreme.
While Krispy Kreme is excited to mark its 81 years of serving delicious doughnuts with the dollar deal and Glazed Confetti Doughnut, you can also get pumped about some other recent Krispy Kreme news. It was announced on Friday, July 20 that Krispy Kreme would acquire a large stake in Insomnia Cookies at the close of the quarter in 2018.
Since the deal isn't finalized, cookie and doughnut fans don't know exactly what this means, but both brands seem excited about the move, and there were plenty of hints in the statements from Tattersfield and Seth Berkowitz, the founder of Insomnia Cookies, that led people to believe that cookies and doughnuts might soon be sold together side by side in Krispy Kreme and Insomnia Cookie locations.
Again, this is all speculation, but the partnership sounds like it will be a sweet deal for the customers and companies alike. Maybe you'll even have a cookie-inspired birthday deal to look forward to soon. Until then, set a reminder for July 27 in your calendar to snag your celebratory dozen doughnuts for just a buck.