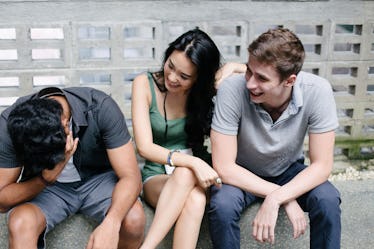 5 Ways To Flirt During Syllabus Week That Actually Worked For These Women
The first week of classes, AKA syllabus week, is notorious for being the "easy" week of college. Your professors tend to use class time to go over the syllabi (hence the nickname), and not assign too much work. Basically, your assignments for the week are to buy the textbooks, and maybe read a chapter or two. Since you're not yet overwhelmed with work, you can focus on other things — like meeting new people and putting feelers out for a possible hook-up or relationship. Wondering how to flirt during syllabus week? I've got you covered.
I spoke to recent college graduates and scoured Reddit to find out the best strategies for getting to know as many people as possible during syllabus week. These five stories will get you excited for classes to start, if only so you can start getting your flirt on.
While you can meet a best friend or a partner at any point during college, in my experience, some of the strongest friendships and relationships are formed during the first few weeks of freshman year. Make the most of orientation, welcome week, and syllabus week, and by mid-September, you'll have more numbers in your phone than you know what to do with. Here are five proven ways to flirt during syllabus week, according to real women.