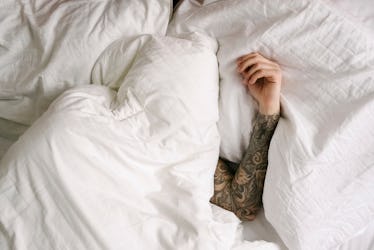 6 Hacks For Falling Asleep When You're So Sick, It Hurts Just To Lay In Bed
When you're sick as a dog, the last thing that'll make you feel better is a bout of insomnia. It's a total catch-22: You're completely exhausted, but you can't seem to fall asleep. Instead, you spend the whole night tossing and turning, and wind up feeling even worse in the morning. For this reason, as winter approaches, it's crucial to figure out how to fall asleep when you're sick so you never have to endure another brutal, sleepless night.
When your immune system is stretched too thin, it can start to feel like your entire body is thrown out of whack. You can practically feel your throat slowly clogging up and your nose getting all congested, especially as you're just laying down and trying to fall asleep. When you're feeling this sh*tty, the best thing you can do for yourself is come up with strategies that clear up your airways and help your immune system fight off infection and inflammatory on the spot.
But as I'm sure you know, it's not just about falling asleep; it's about staying asleep, too. Literally no one wants to wake up with a fully blocked-up nose at 2 a.m. Since getting plenty of shut-eye is one of the fastest ways to get better from an illness, it's important that you find ways to fall asleep and stay asleep for the full night when you're under the weather. Here are six foolproof ways to fall asleep when you're sick, and stay snoozing the whole night through.