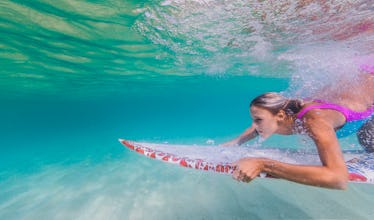 This Company Will Pay You $60,000 To Travel The Country & "Live Your Best Life"
I'm gonna speak for most people and say that getting paid to travel would be a dream come true. Do you agree? If so, White Claw Hard Seltzer just launched a contest that's calling your name. The winners will get $60,000 to travel the United States for six months, and it sounds un-freaking-real. If that's up your alley (because really, how could it not be?), here's how to enter White Claw Hard Seltzer's "My Best Life Contest." You'll literally get paid to live life to the fullest.
According to a press release, White Claw Hard Seltzer officially launched its "My Best Life Contest" on May 2, 2018. Two adventurous winners (ages 25 and up) will be able to call themselves "White Claw Brand Ambassadors" as they travel around the United States repping the brand and discovering new passions for six months. Oh, did I mention they'll also get paid $60,000 to do all of this? Somebody pinch me, I must be dreaming.
Entering to win this enticing experience is simple, and entries are valid through June 3. Per the release, start out by following @WhiteClaw on Instagram. Then, take a photo that best expresses how you "live your best life," and post the photo to your IG account (which has to be public, not private). Make sure your caption explains how you're currently living your best life, and how this position will fulfill your life's passions. Don't forget to tag @WhiteClaw and include the hashtag #MyBestLifeContest. Once you've done all of that, you're golden. If you're not much of a 'Grammer, though, you can also submit your photo and caption idea through the White Claw website. So whether your passion lies in biking or in eating ice cream, go ahead and snap that selfie.
The winners of White Claw's "Live Your Best Life Contest" will officially be announced in August. While representing the brand, both winners will be encouraged to travel twice a month to the destination of their choice, and explore potential newfound interests. Whether it's your dream to hike the Rocky Mountains or raft through the Grand Canyon, this job allows you to pursue any and all of your passions. Oh, and if you end up winning, please post all of the Instagram photos so I can vicariously live through your amazing adventures. I'll try not to get too jealous (even though I already am).
In a press release, Sanjiv Gajiwala, senior vice president of marketing at White Claw Seltzer Works, said that White Claw values people who embrace active lifestyles. He explained that this was the inspiration behind the "My Best Life Contest."
In a statement, Gajiwala said,
White Claw takes great pride in supporting those who embrace a balanced and active lifestyle. With the 'My Best Life Contest,' we're creating new meaning for consumer sabbatical experiences and demonstrating our encouragement for men and women alike to get out there, live their best life and find their passions.
Even though the winners haven't even been selected yet, I'm already incredibly envious. Whether they end up dogsledding in Alaska, or if they choose to kayak through the San Juan Islands, there are so many ways to live their best life. Entering White Claw's contest will definitely be worth your time, and I highly encourage everybody to apply. If this somehow doesn't seem like the opportunity of a lifetime to you, then you should probably re-evaluate your life choices. Seriously, I'm applying at the end of the work day. Check out my Instagram and see how I live my best life. If you're applying for the position, good luck.