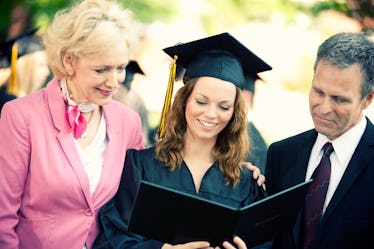 Here's How To Deal With Family On Graduation Day, So That It's Drama Free
Graduation day is big. It's a time to celebrate a huge and amazing accomplishment that you should feel extremely proud of. But it's also a day of really mixed emotions. On the one hand, it's about stepping into a new future full of possibilities and excitement, but on the other hand it also symbolizes the ending of another important chapter in your life. It's all very bittersweet. And if all that weren't enough, the ceremony also means adding family dynamics into the mix, meaning you have to figure out how to deal with family on graduation day on top of all the other emotions you're already feeling. It's a lot.
Fortunately, there are some things you can do to help make the day run a little smoother and hopefully drama-free. It means doing some work in advance, but it will all be worth it if you are able to relax and and just be in the moment on the day of your graduation. After all, it took years and a ton of hard work to get here, so it'd be a shame if you can't enjoy it, right? So, here's what to do to make sure everyone, including you, has an amazing graduation day.