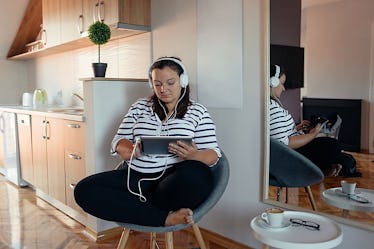 6 Little Things You Can Do To De-Stress At Home After A Seriously Long Day
I'm sure you've learned by now that college isn't all fun and frat parties, especially if you're the type of person who clings to syllabi and basically eats, sleeps, and breathes extracurricular responsibilities. I think most of us — myself included — struggle to find an appropriate work-life balance. If by your last class, you're on the brink of burning out, but still feel as though there's work you could technically be getting done, it's imperative that you learn how to compartmentalize now, so you don't risk sacrificing your sanity later. We work to live, friends, we do not live to work, which means you need to know how to de-stress at home when long days come to an end, so a new one can begin on a clean, hassle-free slate.
I completely understand how impossible it can be to put your grind on pause in college. I was totally that girl who'd fill up her schedule with the maximum number of classes, an internship, a part-time job, and at least two extracurriculars per semester. Was it worth it? Absolutely. Did my mental health suffer as a result of trying to balance a ton of responsibilities? Definitely. No matter how hard I tried, I could not find a way to properly decompress because I was unable to separate the hustle from relaxation.
According to Dr. Danielle Forshee, LLC, the trick to doing this is to leave work at the office, at your dorm room desk, or in the library. She tells Elite Daily,
You have to leave your work at the workplace physically and mentally, and not bring it into your personal space. By bringing work into your personal space, it will trigger stressful thoughts.
The bottom line is, stress happens, and it happens to all of us. Unfortunately, we usually make things worse by hyper-focusing on what went wrong in our day, looming deadlines, or a list of responsibilities instead of relaxing when we really need to. Here are a few ways you can destress at home after a long day that desperately needs to be forgotten.