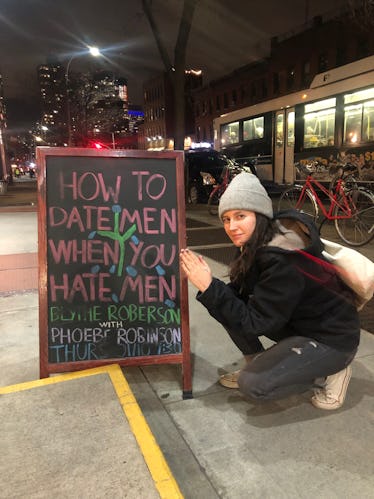 This Is How To Date Men When You Hate Men, According To Blythe Roberson
Tom Brandes, Courtesy of Blythe Roberson
You're sitting across from your crush in an urban-chic night-café (constructed out of an old shipping container), when he mentions his long-term girlfriend (who you've never previously heard of). You quickly realize that despite months of flirty texts, the literal paper notes you've exchanged, and all those times you were about to kiss — that you are *not* on a date. As you walk home (alone), you realize that you have enough stories about the frustration of men and romancé to fill a book — perhaps literally called: How To Date Men When You Hate Men.
Of course, a quick Google search will show you that comedic writer (and general icon), Blythe Roberson, has already beat you to it. And although you might be a bit upset that you didn't come up with such a topical concept for a modern romance novel, worry not. We can all date men when we hate men, and we can get through it together.
I sat down with Roberson over breakfast to talk about the patriarchy, texting crushes, making art about the idiots who've caused you pain, and six life-changing tips on how to date men when you hate men.