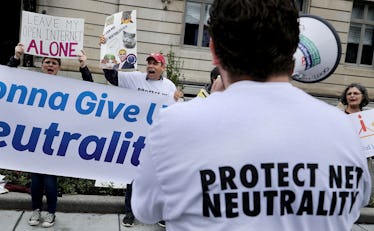 This Is What You Can Do About Net Neutrality
Chip Somodevilla/Getty Images News/Getty Images
On Nov. 21, the Federal Communications Commission (FCC) announced its plan to repeal former President Barack Obama's net neutrality regulations, and the impact on the free internet could be catastrophic. Ajit Pai, the current FCC chairman, announced that the vote on net neutrality could be made as early as mid-December. That being said, there's still time to change this outcome by contacting Congress about net neutrality and voicing concerns.
First of all, here's a brief explanation of what net neutrality is and why it's important. Net neutrality is basically internet freedom for all. Keeping the internet open limits the power that internet service providers (ISPs) have to give people faster or slower internet speed, or regulate what we can access. By keeping the internet free and equal, we are protecting our ability to use the internet how we please. In 2014, Obama put policy into place that requires the FCC to keep the internet open and equitable. However, since President Donald Trump's election, Pai was elected FCC chairman, now giving him the chance to rollback Obama's policy. With a Republican-dominated FCC board and chairman that all support Pai's decision, the chances of net neutrality vanishing is great.
That being said, people still have the ability to sway the outcome. While the distance between you and your respective representatives may seem substantial, it's actually really easy to get in contact with them, and there are several websites that will help you out. One thing to note is that it's crucial to only speak with representatives from your state. Otherwise, you're wasting people's time (calls are only marked from constituents) and potentially keeping actual constituents from being able to have their voices heard for their state.
Most directly, you can call the Capitol switchboard.
An easy way to get connected is by calling the Capitol switchboard at 202-224-3121. When you call, you just have to say where you're from and they'll transfer you to your senator/representative's office. You'll likely be talking to a legislative assistant. Try to be calm with them — they're just people who have to answer these calls all day and don't have anything in particular to do with why policies are the way that they are. Keep the conversation simple. Here is a script you can use:
Hello, I'm [name], and I'm a constituent of Senator/Rep [name]. I'm calling to ask her/him to act in support of net neutrality, as it is very important to the general public. I am watching his/her actions on net neutrality, and it will influence my vote in coming years. Thank you!
Or you can use websites, like 5 Calls.
5 Calls make it easy for anyone to select a location, pick an issue (in this case net neutrality), and they will provide you with the number to call your representative.
By just inputting your cell phone number and pushing "Call", they will connect you with your representative based on your location provide you with a suggest script of what to say to your representative on the line. In addition, they provide a map of "protests near you" based on your location, if you want to do more than call.
On their website, all you have to do is select your address, zip code, and write a personalized message (which could be about opposing the removal of net neutrality), and they will send out an email to your representatives immediately.
By just typing in your zip code, you can find out who your representatives are, along with their office address and phone number.
You can find a full list of U.S. Senators' contact information at the Daily Kos.
Here are the email addresses of the five leaders in the FCC.
•Ajit Pai, Chairman (Republican) - Ajit.Pai@fcc.gov
•Mignon Clyburn, Commissioner (Democract) - Mignon.Clyburn@fcc.gov
•Michael O'Rielly, Commissioner (Republican) - Mike.O'Rielly@fcc.gov
•Brendan Carr, Commissioner (Republican) - Brendan.Carr@fcc.gov
•Jessica Rosenworcel, Commissioner (Democrat) - Jessica.Rosenworcel@fcc.gov
If you're more interested in direct, communal action, there are a number of protests happening on Dec. 7, about a week before the FCC is expected to vote.
Protesters across the country have organized one day of rallies at a number of Verizon stores, partly because Verizon has spent millions of dollars combatting net neutrality, along with ComCast and AT&T, and Pai used to serve as a lawyer for Verizon. You can find the closest Verizon store protest here.
There are roughly two weeks until the FCC is expected to vote on net neutrality regulations, which means there's not much time to waste. If you enjoy the liberties of the free Internet, call your representatives and voice your concerns.