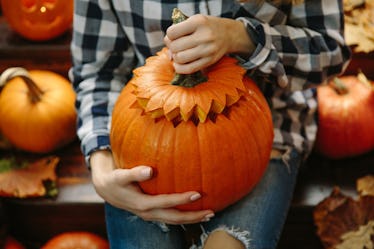 How To Celebrate First Day Of Fall, According To Your Zodiac Sign
Who's excited for the magical vibes of the autumn season? Although, real talk, it is kind of hard to believe that fall is less than a week away, right? Anyway, before I tell you how to celebrate the first day of fall, according to your zodiac sign, let's talk a little bit about what's going on with the cosmos this season, because it's a lot. The first day of fall is on Sept. 22, and for starters, Venus, planet of love and beauty (which also happens to be Libra's planetary ruler) goes retrograde on Oct. 5. This is really important to consider, as Libra is a child of Venus. Imagine, what's Libra season without Venus as usual?
Now, the full moon in Aries on Sept. 24 won't be easy, as it will conjunct Chiron, the wounded healer, and make a square to serious Saturn. Aries wants us to face our fears, but with Saturn's influence, some of us might be feeling isolated, or perhaps extra self-critical. Meanwhile, Chiron can also resurface a deep childhood wound within us all. On a way brighter note, Pluto finally goes direct on Sept. 30, bringing us closer to our power. The truth is, we're all in for an interesting season, to say the very least.
Nevertheless, here's how to celebrate the first day of fall this year, according to your sign:
Aries: Spend Time With Someone You Love
You'll want to be spending quality time with your significant other, or perhaps someone you enjoy spending time with, on this day. With the sun shedding its light on your seventh house of partnerships, the people around you will mirror parts of you that you've never met.
Taurus: Get Organized Or Start A New Routine
You're focused on getting organized. With the sun traveling through your sixth house of routine and daily life, chances are, you'll be highly attentive to all things related to your well being. All the details are important, too.
Gemini: Do Something Really Fun
You're finally ready to come out and play. This is a great day to go dancing, or perhaps to the nearest karaoke bar with your friends. The sun is shining right over your passionate fifth house of creative expression. Own it.
Cancer: Enjoy A Cozy Night In
Grab your Gossip Girl seasons on DVD, and your favorite blanket, because you are about to live your best life, Cancer. No one loves staying in more than you, and the only difference is, this time, the cosmos actually want you to take some time for yourself. So, no need to feel guilt.
Leo: Have A Gossip Sesh With Your Best Pals
This is a busy day for you, but more than anything, it's a day full of small talk, and mentally-stimulating conversations. There's lots on your mind, but the question is, are you ready to divulge that juicy piece of information?
Virgo: Indulge In The Pleasures Of Life
You're feeling yourself today, which is why you're unapologetically indulging through your five senses. Bought some early Halloween candy? Who knows, maybe you play hooky for once, and decide to hit the spa.
Libra: Put Yourself First
Happy solar return, dear Libra. It's your birthday season, and you're feeling cosmically rejuvenated and ready to go. Meaning, it's your birthday and you can cry if you want to. It's okay to be selfish today.
Scorpio: Bask In Your Solitude
You're calling it a night, and taking a much-needed break from the rest of the world. The sun is shining right over your secretive 12th house of spirituality, and subconscious dreams. It's OK to look within.
Sagittarius: Make A List Of Your Hopes And Dreams
On this day, the sun will revitalize the area of your chart related to your hopes, wishes, dreams, and extended network. Anything's possible, right? So, why not write them down? The world is yours today, Sagittarius.
Capricorn: Celebrate Your Accomplishments
This year has been anything but easy for you. However, the cosmos are cutting you a break this season, as the sun is traveling through your ambitious tenth house of career and destiny in the world. Pat yourself on the back today, Capricorn. You've come a long way.
Aquarius: Go On An Exciting Adventure
With the sun shining its light directly over your ninth house of expansion today, all I'm going to say is, never say never. Expand your horizons, as opportunity awaits.
Pisces: Welcome The Changes
This isn't the happiest area of your chart, but nevertheless, it's still part of the astrological cycle. Libra season will be a period of deep transformation for you, and I'm sure you're already feeling it. That said, tell the universe you're ready, and welcome a new beginning.