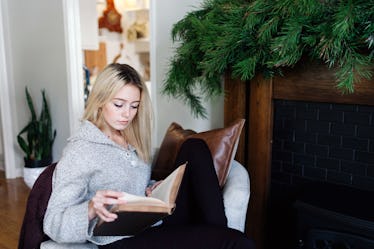 How To Celebrate & Genuinely Enjoy Thanksgiving Alone, According To Experts
As much as we'd all love to gather around the dinner table with family and friends for the holidays, sometimes it's just not possible. Maybe you're a college student with responsibilities keeping you on campus, or perhaps multiple states and sky-high airfare prices are separating you and your fam this year. Whatever the situation may be, if you're not going home for the holidays, and you're wondering how to celebrate Thanksgiving alone, trust me when I say you can still have just as happy of a holiday flying solo (because, hello, more pumpkin pie for you).
Of course, missing out on family traditions can definitely be a bit of a bummer, but Thanksgiving is still all about being grateful, right? So it's important to remember that, even if you're spending Turkey Day alone, it's still in your best interest to focus on the positives.
For starters, eating Thanksgiving dinner alone means there will be no debating who gets to eat the second turkey wing (it's all you, my friend), or dealing with unnecessary stress over the painful, inevitable small talk you usually suffer through with Aunt Sue, who just can't seem to understand why you're still single, and more importantly, why you don't want to talk about it (cringe).
Having total freedom to do what you want, when you want around the holidays can be daunting, and certainly a little lonely at first. But trust me, there are so many benefits to celebrating solo. Here are a few ways to live it up on your own this Thanksgiving.