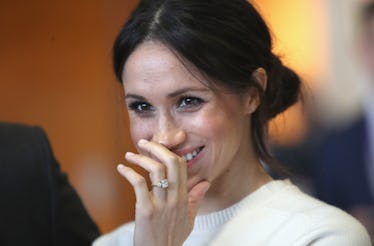 You Can Buy Meghan Markle's Wedding Dress Next Week & You Won't Even Need To Pawn Your Jewels
Chris Jackson/Getty Images Entertainment/Getty Images
The world is five days away from Meghan Markle walking down the aisle to her literal prince charming, and my anticipation is immeasurable. I particularly can't wait to see what the dress will look like, especially considering Markle's essentially infinite budget. But here's how to buy Meghan Markle's wedding dress without having the Queen pick up the bill.
To be fair, it's actually reported that while the rest of the wedding hoopla will be paid for by Prince Harry's people, the cost of Markle's wedding dress will be on her own tab. The details on what she'll wear for her May 19 vows and how much it'll cost are under strict lock and key until the big day. Before the palace releases more specifics, however, I can guess that it'll will probably cost more than I can realistically fathom spending on a dress for myself. Markle's gown will also likely catapult to an essentially priceless value come May 20. Moral of the story? If you want a dress like Markle's, non-royals need a plan b, and lucky for you, I've got one.
Enter: Floravere. Bridal gowns have a reputation for being exorbitantly expensive, but Floravere is a bridal brand offering designer-level wedding gowns at affordable prices. Could it get better than that? Yes, it could. Among their already beautiful designs, Floravere is going to recreate Markle's wedding dress once it's revealed and make it available to any of you die-hard Markle fans for under $2,000. All you need now is a fiancé.
Floravere makes direct-to-consumer gowns (read: no costly middleman) so that brides can ball on a budget. Almost all Floravere gowns are under $2,000, with some even below $1,000, and you can order up to a size 24! And, for only $25, you can order a sample dress to try on in the privacy of your own home before you commit to the real thing.
Floravere is anticipating the Markle-effect and has already announced plans to recreate the soon-to-be historic gown. Customers will be able to order the design between four and five days after the Royal Wedding 2.0 (Kate and William's will always be the OG Royal Wedding) and can expect to receive it six to eight weeks after that. So if you're getting married, or just want to play dress up, as soon as July, you'll be able to walk down the aisle looking like a legit princess on a reasonable budget.
Floravere already offers a gown that resemble's Middleton's 2011 bridal look. Those lace sleeves, that deep-V, amiright? Customizations are also available for most gowns on the site, so you can make yours truly one-of-a-kind.
Kate Middleton, Markle's future sister-in-law, also paid for her own dress (with the help of her parents) when she wed Prince William. Middleton's wedding dress was a custom creation by Sarah Burton for Alexander McQueen and is said to have cost $434,000. I'll take the $2,000 version, please and thank you.
Floravere co-founder Molly Kang has some thoughts on what she thinks Markle's forthcoming dress could look like:
I'd love to think Meghan will strike the perfect balance between tradition and modernity with her wedding dress choice. My prediction is that she will go for a slim crepe wedding dress with some touches of lace accents. Perhaps a lace sleeve for a demure look, but a fitted crepe skirt for a fresh silhouette that reflects the kind of innovator and rule breaker that she is!
Lace is something the queen would like to see in a royal wedding dress as per the palace guidelines, so Kang may not be too far off in her predictions. Watch out for Markle's wedding dress reveal on May 19 to see what you may just be ordering for yourself to wear, too.