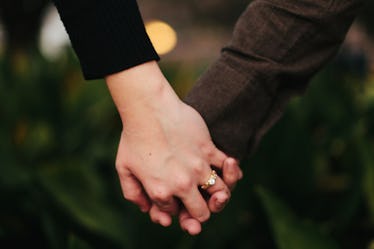 If You Want To Break Off Your Engagement, An Expert Says This Is The Best Way
Not all relationships are meant to last. In fact, most aren't. But it can be extremely difficult to accept that yours needs to end, especially when it's gotten as far as an engagement. It's one thing to call it quits with someone you're dating or even living with, but it's even harder to know how to break up with someone you're engaged to, because it's usually a deeper commitment and one that likely involves family, friends, and often, finances. There is a ton of pressure to go through with an engagement, but I'm here to tell you that if you want out, you have every right to call it off. In fact, calling off an engagement is actually the kinder thing to do, rather than entering a marriage you don't really want to be in.
But how do you actually do it? Is there a way that will make it easier on everyone involved? To answer that question, I contacted relationship and dating coach Monica Parikh, who explained that while a painless breakup is virtually impossible, there are some things you can do to prepare and ways to handle the situation that can make the process easier and less traumatic. Here's what she suggests.