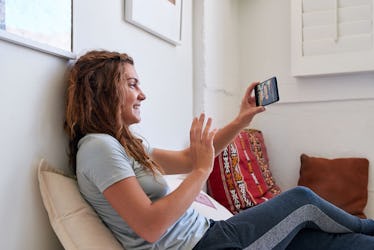 An Expert Reveals How To Support Your Best Friend, Even When You're Separated By Distance
A best friend has an irreplaceable role in anyone's life. They're the person you go to for just about anything, from getting advice about how to deal with that annoying co-worker, to navigating the choppy waters of post-grad adulthood, to sympathizing over your most recent breakup. One of the best parts of a close friendship is how easy it feels to be friends, but when your BFF lives really far away, it can become harder to maintain your relationship. Learning how to be there for your best friend when the two of you are separated by distance requires the same type of practice that anything else does: You have to be intentional, and you have to think about how you want to approach the challenge.
The good news is that a friendship will almost always be less stressful than a romantic relationship. The bad-ish news is that you're still going to have to put in an active effort to keep it going — but let's be real: It's so worth it.
According to Dr. Emily Balcetis, a social psychologist and associate professor of psychology at New York University, keeping the flame of friendship alive doesn't have to be as daunting as it sounds. What it really comes down to is maintaining honesty, communication, and empathy, and while this is sometimes easier said than done, especially in a long-distance friendship, the real goal is to simply express to the other person, on a consistent basis, how much you care about them and want them in your life. "Taking time to spread the love, compliment each other, acknowledge generosity, praise accomplishments, and send a smile can make a big difference," Dr. Balcetis tells Elite Daily.
Here are five quick tips for being the best friend you can be, even when your beloved other half is miles and miles away.