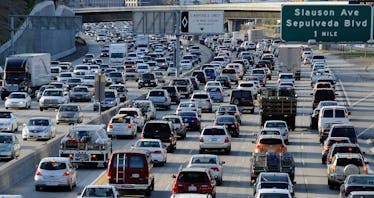 You Can Avoid Insane Traffic On Thanksgiving Morning By Driving Home At This Time
Kevork Djansezian/Getty Images News/Getty Images
Traffic is never fun. Traffic on a holiday that's meant to be spent with friends and family (and gives you a day off work) is really not fun. You already know that airports are busiest on the Wednesday before Thanksgiving, but do you know what the best time to leave is if you're traveling by car? Get ready to set your alarm clock, because leaving early is how to avoid traffic on Thanksgiving morning this year.
It really is hard to believe that it's already time to make sure your Thanksgiving plans are set, but if you don't want to wind up like Steve Martin in Planes, Trains, and Automobiles, it's a good idea to prepare now. According to Travel and Leisure, there is a set time that's best to leave for your Thanksgiving drive if you wish to avoid honking horns and bumper-to-bumper traffic. Sadly, sleeping-in is not on the menu.
That's right: 6 a.m. is the optimal time to leave your house on Thursday, Nov. 23 (Thanksgiving Day) this year, according to data from Google Maps for 25 U.S. cities. Google analyzed the traffic conditions from Thanksgiving day in 2016, and used the results to offer up the suggested departure time.
The Thanksgiving Google Trends report also has an interactive tool where you can select your city, and then it will populate the best times to leave in order to avoid traffic. There are 25 cities from which to choose, including Atlanta, Boston, Los Angeles, Minneapolis, and New York City.
If you think 6 a.m. is early, then I do not suggest unchecking the box that says "Show me only daytime travel." I don't know about you, but there is no way I'm trading in a warm bed for getting behind the wheel at 4 a.m. on Thanksgiving morning. No amount of turkey and stuffing is worth sacrificing that much sleep.
It's a smart decision to leave early on Thanksgiving morning if you're driving, though. You can see from the chart powered by Google Maps that Wednesday afternoon into very early Thanksgiving morning is the most congested time on the road. So, even though you might not be so thankful for an early wakeup call on Thanksgiving morning, it'll be well worth it when you get to grandma's house not fueled with road rage. Don't worry about being too tired, because you'll get that clutch tryptophan-induced nap after the turkey dinner.
After your nap, it's time for a slice (or two) of pumpkin pie. Once you've changed into your most forgiving pair of yoga pants, you'll probably want to head back home — not so fast, though. According to the Google Maps tool aimed at helping you to avoid traffic, the best time to drive back home is after Thanksgiving. If you're really anti-traffic, you'll want to wait until at least Saturday at (you guessed it) 6 a.m.
It makes sense that Black Friday isn't suggested as an optimal time to hit the road. Not only are people out trying to snag the best deals, they're likely doing so on little-to-no sleep, and traffic coupled with sleep-deprived bargain hunters does not sound like a winning combination.
Hey, if your hosts are willing, it's not such a bad deal to spend the night on Thanksgiving (hello, leftovers). It will also give you another opportunity to catch up and connect with family members whom you haven't seen in awhile. You don't get many chances during the year to just hang out with your loved ones and enjoy one another's company, so turning Thanksgiving into a two-day affair doesn't sound like such a bad idea. Plus, you'll be able to hit the road stress-free the next day — which sounds like the perfect holiday.
Check out the entire Gen Why series and other videos on Facebook and the Bustle app across Apple TV, Roku, and Amazon Fire TV.