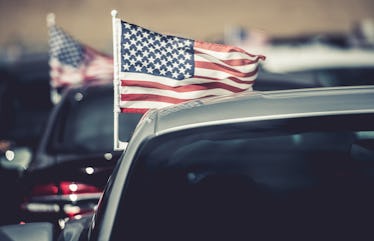 This Is When You Should Drive On The Fourth Of July For A Stress-Free Holiday
The last thing you want to do on your Fourth of July holiday is get stuck in traffic on your way to the beach, a backyard barbecue, or your favorite annual fireworks display. Since the Fourth of July falls on a Wednesday this year, you want to make sure you get the most out of your midweek day off. One way to ensure a stress-free Fourth of July is to steer clear of jam-packed highways. It might take a little more planning and effort, but once you know how to avoid traffic on Fourth of July, you'll be glad you put in the time.
Holidays that fall in the middle of the week can be tricky to mesh with your vacation plans. Whether you were able to get a long weekend ahead of the holiday or you're just off on July 4, there are optimal times for everyone to hit the road for their patriotic festivities, according to Travel + Leisure. The data comes courtesy of Google Maps and Google News Lab, which used 2017 Fourth of July traffic data from 25 U.S. cities to predict the best driving times for traveling on the holiday in 2018.
Sleeping in on the Fourth of July is not an option if you want nothing but the open road ahead of you. The best time to travel on Wednesday, July 4 is between 4 a.m. and 6 a.m. Starting a holiday earlier than you might even begin your workday might not sound like fun, but you'll be much happier once you get to your Independence Day destination free from road rage.
If you can't get on the road that early — even with a major caffeine boost — then you should at least make sure that you avoid the roads during the heaviest times of Fourth of July traffic. Per Google, 3 p.m. is the most popular time for people to be on the road on July 4, which means it is also the worst time to drive if you enjoy moving faster than a snail's pace.
For those of you who can get a head start on the holiday, you might think that you can avoid the early-bird travel times. Unfortunately, traffic on July 3 will include both regular workday traffic and similarly-minded holiday travelers, so you'll want to head out during that 4 a.m. to 6 a.m. window on Tuesday as well. If you can burn the midnight oil, you can also avoid heavy traffic during the late evening on Tuesday, July 3, around 11 p.m.
Fourth of July drivers should keep that 11 p.m. time in mind too, because a late-night exit from your annual fireworks spectacular will make your holiday drive home a breeze.
All of these driving time windows and traffic information are similar across the country, but you can look at specific times for your city with Google's interactive traffic tool. Some of the major cities used in the data include: Boston, Chicago, New York, Los Angeles, and Washington D.C. A little road-trip prep could go a long way when it comes to keeping your cool on the road this holiday.
Lucky vacationers who turned their Fourth of July holiday into a weeklong getaway will reap the rewards when it comes to travel times on July 5 and July 6. There are still peak times of traffic since regular workday traffic is on the road, but the roads will generally be less crowded than Fourth of July traffic. As is the trend with holiday travel, you can still avoid most of the traffic jams when you get on the road early in the morning. So, your best bet for a traffic-free holiday is to keep that 5 a.m. alarm set all week long.
Again, you might not like the early wake-up call, but it'll be worth it. AAA predicts that 47 million Americans plan to travel this this Fourth of July holiday, which is a five-percent increase from 2017, according to New Jersey Business Magazine. That would make the 2018 holiday — July 3 to July 8 — a record-breaker, with the highest volume of travelers during Fourth of July ever tracked by AAA.
With that many people on the road and the sun beating down on your car, you'll be glad to start your engine in the wee hours of the morning on Fourth of July. Early-bird holiday travelers also tend to get the prime spots on the beach (or wherever you celebrate), so hit the road early this year for your best Fourth of July yet.