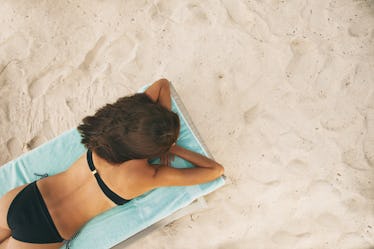 This Company Is Hiring "Professional Slackers," So You Can Finally Get Paid To Relax
No matter how much technology advances and times change, some things remain constant, like the fact that we have to work. Even if you totally love your job, sometimes you really need to just lay around and do nothing. But what if you could get paid to lay around and do nothing? Here's how to apply TUI's "Professional Slacker," so you can earn a paycheck for lounging.
If this sounds too good to be true — or like the beginning of a Black Mirror episode — let me assure you that it's not. According to Travel + Leisure, travel agency TUI is looking for four "Professional Slackers" to quite literally lay around and do nothing from Jan. 22 to Feb. 4. The TUI website states that slackers will be paid hourly, at a rate "guaranteed to be way too high in relation to performance," and shifts will run from 7 a.m. to 1 p.m. and 1 p.m. to 7 p.m. If 7 a.m. sounds a little early for a job focused on relaxation, keep in mind that you're "basically getting paid to sleep." Definitely worth the wake-up call.
Unfortunately, the job is based in Stockholm, Sweden, so if you don't live there, you may not be eligible. But then again, if getting paid to vacation for two weeks sounds like your dream job, it just might be worth the cost of a flight to Europe.
The job description includes hanging out in a "cozy" office that's decked out in Mediterranean beach decor, wearing summery attire, and putting your feet in the sand. But this position is no walk on the beach: You've got to be prepared for some hardcore chilling.
During the day, the "workload" consists of "sitting in a beach chair" or "alternatively, [lying] on a beach towel if you find that more comfortable." Slackers must also indulge in naps, some light reading, their favorite music, and any other relaxing activities. Finally, they must be prepared to "completely ignore stressful bypassing commuters and focus on [their] own relaxation." Those who do this job will be awarded the fancy title of Fakeation Specialist. So if being rewarded for doing nothing is your preferred journey to success, this is the job for you.
Now bear with me, because this is where it gets intense: the qualifications. This job isn't just for any old lazy person who occasionally enjoys a massage or surfs the web while they're supposed to be working. TUI is only interested in the best of the best.
In order to be a Fakeation Specialist, you absolutely cannot be able to think outside the box. Creativity and innovation are for the hard-working — yawn! Leave 'em behind. And if the words "productivity" and "deadlines" don't make you want to crawl out of your skin, forget it; you haven't got what it takes. Sitting and/or lying down must be your preferred positions, and above all, your top priority must always be your own relaxation. You can't be fazed by things like email notifications, appointments, or any other so-called "responsibilities."
If you have a college degree, or any level of education really, it's probably best not to disclose that information to TUI. Or if you do choose to share, be sure to let them know that you retained absolutely nothing, and majorly took advantage of every class without an attendance policy.
TUI is accepting applications until Jan. 14. If you think you can handle a serious job like this, send them a few sentences (don't overwork yourself) about why you're the perfect Fakeation Specialist, and attach a photo of yourself in your most chilled out, blissful position. Please don't send a resume, cover letter, references, or anything that might be considered "going above and beyond."
Check out the entire Gen Why series and other videos on Facebook and the Bustle app across Apple TV, Roku, and Amazon Fire TV.