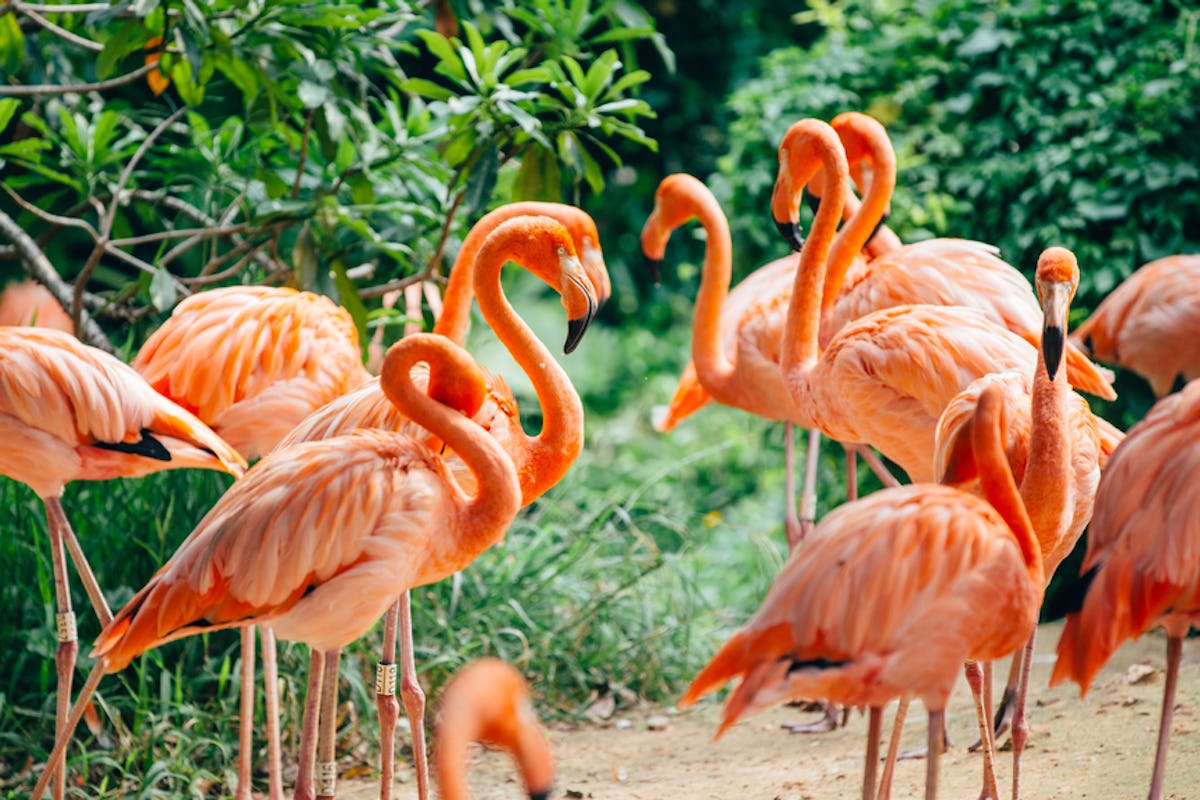 This Bahamas Resort Will Pay You To Chill With Flamingos, So Apply ASAP
Your job search just ended, my friends. A brand new resort in the Bahamas is currently hiring a CFO, and the position is basically screaming your name. Before you panic about your college degree, rest assured that the "F" doesn't stand for "finance." Nope, it actually stands for "flamingo," because the company is currently seeking a Chief Flamingo Officer. I am not kidding. This job is real. If you know a thing or two about exotic birds and have a passion for tropics, you're probably wondering how to apply to be a Chief Flamingo Officer at Baha Mar, a resort in Nassau, Bahamas. The application process is simple, but there are a few qualifications you have to meet.
For starters, you must have college degree in zoology (or a related field). This means you shouldn't send your resume in if the closest you've come to an actual flamingo is the blowup one from your Memorial Day pool party. It's also required that you have five or more years of experience working with exotic birds — including flamingos, of course — in a professional environment or an accredited animal facility. In other words, this resort isn't messing around; they're looking for a total professional to take care of their flamingo babes when they arrive this spring. Flamingos = life.
In order to be considered for the CFO position, you must also be well versed in biology and ecology and understand the the environment of a captive flamingo. It's also preferred that you know how to maintain a flamingo habitat, which includes knowing what to feed them and how to obtain their nutrition. Basically, you have to be a pro at avian science to land the position (avian means "relating to birds," and if you didn't already know that, I probably wouldn't apply).
Other non-bird requirements include having basic computer skills, at least one year of supervisory experience, and communication abilities. If you have these requirements checked off — along with an expertise in everything flamingos — then freakin' apply! The Bahamas are waiting for you! For a full list of job qualifications and responsibilities, head to Baha Mar's website, scroll all the way to the bottom, and hit "Careers." Once you're there, type "Chief Flamingo Officer," and read up.
If you're not super qualified but still curious about WTF a Chief Flamingo Officer does, allow me to explain. The CFO at Baha Mar will be responsible for the flamingos that will reside in the tropical BEACH Sanctuary of the resort (the flamingos will arrive this spring, according to Cosmopolitan). (FYI, "BEACH" stands for Baha Mar Ecological, Aquatic Conservation Habitat Sanctuary.) Not only will the Chief Flamingo Officer care for the flamingos, but they will also maintain the exhibits and make sure the birds are living in a healthy environment. The CFO will also monitor the flamingos' breeding, behavior, and physiology. TBH, this job requires you to become one with the flamingos, and only the most educated flamingo-enthusiasts will be considered.
When hired, the CFO will work with the Vanessa Haley-Benjamin, Baha Mar's Chief Scientist who runs the BEACH Sanctuary at Baha Mar. The goal of the sanctuary is to preserve and protect Bahama's wildlife — and resort guests are able to experience the sanctuary with firsthand activities like snorkeling with sharks and hanging out with turtles. Soon, they'll be able to chill with flamingos — all thanks to the upcoming Chief Flamingo Officer.
I don't know about you, but I'm kind of regretting not majoring in zoology right now. Hopefully, whoever is chosen for the job will give the Baha Mar flamingos the best lives possible.
Check out the entire Gen Why series and other videos on Facebook and the Bustle app across Apple TV, Roku, and Amazon Fire TV.