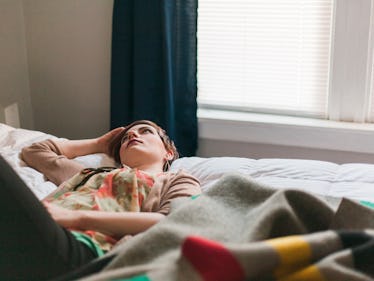 Stress Can Mess With Your Period In These 5 Unexpected Ways, But Here's How To Relax
A woman's menstrual cycle is the perfect example of how a negative state of mind can be directly linked to her physical health. For example, when everything's copacetic, and you're having a great month overall, your period will generally arrive on schedule, wreak its havoc, and peace out in a few days. But if you've ever noticed how stress affects your period, you're well aware that anxiety can, potentially, either alter your menstrual cycle, or scare it off entirely.
If you think about it, it's a pretty vicious cycle. I know myself, and when something is even slightly off-kilter when it comes to my lady parts, I'm first in line at the pharmacy buying a pregnancy test or calling my OBGYN for expert support, whining "SOS I'm not bleeding — what's up with that?" Before your mind wanders to Mom haircuts and diaper bags, or you jump the gun and make an emergency appointment with your doctor, try not to panic, and instead, assess the situation rationally. If you're always on-the-go or obsessively fixating on office work or term papers, chances are, your period's running wild because your brain is, too.
I get it, though. When your period is nowhere in sight, and you're on the brink of both a mental and hormonal meltdown, it's almost impossible not to become even more stressed out over the whole situation. But you need to try your hardest to relax, because the following is a list of how stress actually messes with your menstrual cycle, and the key to making it better is learning how to cope in healthy, effective ways.