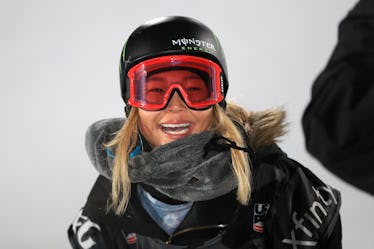 This Incredible Olympic Snowboarder Will Make You Feel So Unaccomplished
Sean M. Haffey/Getty Images Sport/Getty Images
As the Winter Olympics grows closer and closer, one name that continues to pop up on our radars is Chloe Kim. The overachieving snowboarder is a three-time X Games champion and is said to be a "gold medal favorite," which ultimately prompts the question: How old is Chloe Kim? Be advised: the answer might just shock you.
Kim is a 17-year-old snowboarding sensation from southern California who could, perhaps, be the youngest American to win an Olympic medal in the sport — a feat that actually might have been achieved already if Kim hadn't been barred from the Sochi Games in 2014 due to her young age. Still, that same year, Kim won silver at the X Games, establishing herself as one of the world's best in the halfpipe. Between 2015 and 2016, Kim won three gold medals at the X Games, becoming the first athlete in the championship's history to do so before the age of 16.
And that's not all. In 2016, during a halfpipe contest at the Park City Grand Prix, Kim made history as the first woman to land back-to-back 1080s. According to NBC, she didn't lose a competition for almost a year after that, propelling Kim to the forefront of the sport and solidifying her mark as a dominant metal contender as she gears up to compete in the 2018 Winter Olympics.
But Kim said the sport is harder than it looks.
When speaking about her confidence and over-achieving abilities, Kim tells Elite Daily,
It's high pressure here for everyone — no matter how old you are it's still very intense. I'm a pretty confident person. I just think it's the fact that I always want to push myself and do the best I can. I never really look at what the other girls are doing because I just want to focus on myself and beat myself and do my best.
However, others maintain that Kim is "in a whole different league."
In May 2016, Ricky Bower, the United States' halfpipe coach praised Kim's talents, saying Kim is "in a whole different league," according to NBC. He said,
She rides with a tremendous amount of amplitude and carries a lot more speed than any other female in the halfpipe. She's in a whole different league. There's really no one that can ride like that.
He continued,
Even on [another snowboarder's] best day ever and Chloe on one of her worst days, she would still probably win. She's just riding that good. Going forward, she's got Olympic gold medals in halfpipe and maybe even slopestyle.
Kim got into snowboarding as a kid.
Bower's comments make sense, considering Kim has been snowboarding since she was a kid. According to NBC, Kim competed in her first contest at six years old and won junior nationals the next year, which led to her father dragging her into the sport. Kim told NBC in 2016, "When I first started snowboarding, my dad pretty much dragged me into it. I wasn't old enough to be like, 'Oh, I wanna snowboard!,' you know?"
Recently, she told the Denver Post,
Obviously, when I was 8, I had no idea what he was doing. It was like, 'Why is Dad home more,' you know? But now that I think about it, you know, I feel like it was a really bold move, and I can't believe my mom was OK with it.
And we are so grateful for that move. With all of Kim's accomplishments at just 17, she looks to be one of the most promising athletes that will compete at the Olympics. We can't wait to see what she has in store — now that she's old enough to compete, that is.