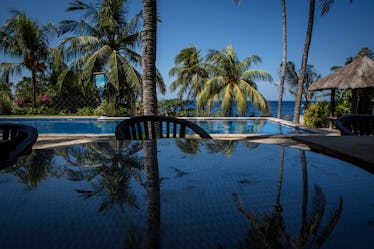 Here's How Old You Need To Be To Book A Hotel Room On Your Dream Vacation
Ulet Ifansasti/Getty Images News/Getty Images
My childhood friends and I have been (hypothetically) planning a trip together since, like, middle school. Maybe even earlier, honestly. Except embarking on a journey wouldn't have even been possible without our parents' permission, until relatively recently (I'm talking the last five years). Making certain types of reservations have specific age requirements, and since you might be wondering how old you have to be to rent a hotel room for your upcoming spring break getaway, we have all the answers... and don't worry, there's no parental supervision required.
You have to be 18 years old to rent a hotel room in a majority of the U.S. states. However, some hotels with an older clientele might bump their age requirement up to 21 or 25 years old, according to USA Today. So no matter how badly you wanted to go to Vegas with all your friends (and obviously no parents) in high school, you legally wouldn't have been allowed to, because of liability reasons and contract enforcement.
Minors can't legally sign contracts in the U.S. until they are 18 years old, which would be the first factor to prevent them from renting a room. Also, hotels also don't want to be liable for minors. In all honesty, I wouldn't have wanted to be responsible for my high school self, so this is completely understandable.
Another factor that could modify the age limit, per USA Today's 10 Best, is if the hotel asks for a major credit card to reserve the room. Since many travelers under 21 might not own a major credit card, they wouldn't be able to book. Just wait a few years for that plastic money, and you're golden.
If you're looking to stay at a hotel in Mexico, check out the The Four Seasons in Mexico City. Daniela Gutierrez, a representative from the hotel, spoke with Elite Daily and said visitors must be 18 years old to book a room at the hotel. So despite what you might have thought, the age limit is actually the same in some Mexico locations as it is in the United States.
It seems as though all of North America is in the same boat in terms of setting a legal age to rent a hotel room, because in Canada, it's also 18 years old, according to USA Today's 10 Best. In Europe, however, many major hotel chains, such as the Holiday Inn, allow kids over 16 years old to rent a room in the U.K. and Ireland. The site does specify that different hotels have different age limits everywhere — even in the U.S. — so it's definitely best to check online or by phone before attempting to check in to a hotel anywhere around the world.
If you're looking to go on a road trip, age also matters in terms of renting a car. Many major rental companies require renters to be at least 25 years old to rent a car. Some companies, such as Avis or Budget, however, will just make you pay a fee if you're under 25... which isn't so bad, but the cheaper, the better.
If you're wondering if you can actually rent a hotel room based on your age, I would most definitely play it safe, and contact the hotel ahead of time. Even if you're 18 years old — which seems to be the standard age worldwide — you might end up being disappointed. And, if you don't have a credit card yet, that could also be a potential problem while you're looking to book a room. So beware, especially if you're between the ages of 18 and 21, because the answer can be kind of questionable. And if you're looking to rent a car, keep in mind that you may have to pay a price if you're under 25.