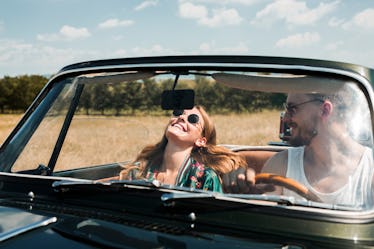 Spring Break Might Be A Lot Harder If You're Under 25, Thanks To This Rule
Warmer weather is starting to seep in, and it's almost time to say ciao to the winter months. You know what that means? Spring break is almost here and it's time to start planning your trip. Some people head to Florida or the Caribbean. Some set their eyes on a European excursion. But, maybe you are afraid to fly, or you're more of the road tripping type. In which case, you may be wondering: how old do you have to be to rent a car?
A lot of rental companies require you to be at least 25 years old to rent a car. Some companies like Avis, Budget, Thrifty,Hertz, Enterprise, Dollar Rent A Car, National, Advantage, and Sixt will waive that, but at a cost, according to Smarter Travel. Because younger drivers are less experienced and, statistically, more likely to get into accidents, rental companies will place restrictions on younger renters. If you are under 25 and looking to rent a car, be ready for an extra fee of at least $25 per day, as well as restrictions on which cars you are allowed to rent. For instance, luxury cars and bigger vehicles like SUV's and vans are usually off-limits for drivers under 25, according to Smarter Travel.
USA Today suggests that you should check if your company has a corporate account. Sometimes if you are renting through them, car rental places will waive the under-25 fee. Although if you somehow have a swanky gig where they would have a corporate rental account, I'm not really sure your boss is going to like you renting a car so you and your best friend can live out the plot to Fear and Loathing In Las Vegas.
If you are 21 and under, though, you are pretty much out of luck. Younger drivers pose an even higher risk, and companies often shut them out completely. Unless you are in New York or Michigan, which require companies to rent cars to people 18 and over — but possibly with even higher fees (fees in New York can be more than $100 a day extra!), according to Smart Travel.
I suggest you make some older friends really quickly, or maybe get a really sturdy bike.
Let's say you are committed to that road trip idea and don't care about the fees, or you've finagled your mom into letting you take her car for a couple weeks. Whatever the case may be, it's now time to actually plan. Even if you only have the road, there are some great spots in the U.S. that you can visit for a time so epic you'll forget all about those Caribbean dreams.
New Orleans, Louisiana
If you are looking for a destination that can satisfy all your needs, then I highly suggest NOLA. I've travelled there and it is one of my favorite places, and highly reccommended for a good time. The French Quarter is dripping with everything from awesome bars to really trendy nightclubs. After you're finished listening to some cool jazz, grab a giant hurricane (the cocktail, not the storm) and sip while you stroll down the lit-up streets. Need to refuel before another night out on the town? NOLA is filled with amazing restaurants. Make sure to check out the iconic Cafe Du Monde for hot cocoa and beignets that will make you empty your bank account, ditch your responsibilities and stay forever. Also, there are plenty of hostels you can stay at for some cheap lodging.
Las Vegas, Nevada
Do I have to say it? What happens in Vegas stays in Vegas. Or at least that used to be the case before Instagram. But the sentiment behind those words, still holds true. Vegas is a place for glitz, glam, and debauchery. If you are looking for some epic nights you will probably forget, Vegas might just be the place for you. Some spots could be pricey to stay, but there are usually some all-inclusive packages you can find with some internet searching. Also, if you stay off the strip, prices go down, according to Budget Travel.
Montreal, Quebec, Canada
Montreal can give you a taste of that European excursion you were feeling but just couldn't swing. There's French food (all the buttery croissants you can eat) and plenty of cultural places you can visit like the Notre-Dame Basilica. When you are done will all that stuff your parents would be proud of, you can take advantage of the booming nightlife. Montreal has tons of hot spots with awesome mixologists ready to serve you. Most importantly, Budget Travel says that it's a moderately priced city.
Those are just a few places that you can visit, usually by car, and feel like you got the most out of spring break. So find a way and make it happen. I believe in you. If you need me, I'll be stuffing my face with unsalted rice cakes and pretending they're beignets. Byeeee.