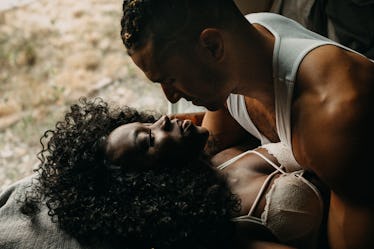 Here's How Often You And Your Partner Should Be Getting It On, According To Experts
Sex is great, but have you ever wondered how much sex is too much sex? Honestly, how often should you sleep with your partner in an average week? What's considered "normal" varies from relationship to relationship, so don't fret. Plenty of folks ask themselves the same questions, especially if they aren't getting it on all the time. Part of that just comes down to how the honeymoon phase can set unrealistic expectations for how much sex you and your partner will have. During that (oh so wonderful) time, you want to get it on every single chance you get — maybe even multiple times a day.
Now, don't get me wrong. This a really fun and exciting phase in a relationship. But where it can become a problem is when you associate all that sex with "peak" happiness and connection in the relationship. So when things inevitably start to slow down in the bedroom, you might worry that you're losing that connection, and that the only way to get things back on track is more sex, obvi.
Well, not obvi, actually! How would you feel if I told you that the "right" amount of sex for a couple to have weekly is less than what it was during the honeymoon phase? In fact, it's a lot less. To find out how often you should be sleeping with your partner, I reached out to the experts, and what they have to say might just surprise you. When it comes to sex, it turns out more isn't always the solution.