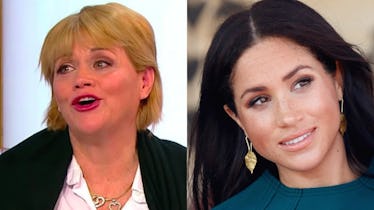 Samantha Markle Is Reportedly Making A Ridiculous Amount Of Money Off Her Meghan Tell-All
YOUTUBE/CHRIS JACKSON-POOL/GETTY IMAGES
Meghan Markle's family is back at it again. Causing all the drama, I mean. Her sister Samantha Markle — the one who hasn't stopped talking about the Duchess of Sussex since the moment they announced their engagement in November 2017 — is reportedly raking in some pretty big bucks for blabbing about Meghan and the birth of the royal baby. No joke, fam. And you wanna know how much Samantha Markle is making for her Meghan tell-all? You definitely do, because it's reportedly a lot.
According to The Mirror, Samantha hit up her private Twitter account to brag about the fact that she's reportedly scoring $100,000 off the arrival of the royal baby through a combination of TV documentaries, talk show sit-downs, a book deal, and interviews that she's charging $2,000 an hour for. Elite Daily reached out to Samantha Markle's team for confirmation on the report, but did not hear back in time for publication.
"Samantha has every right to celebrate the birth of her niece or nephew in spring and will talk about her connection to Meghan, as they are family," a source told the publication. "She does not have an outlandish lifestyle so the money will make a difference to her. She has never been given a penny by Meghan so she has every right to earn her own money in this way."
I mean, none of this is really surprising, since Samantha has previously copped on Twitter to the fact that she's currently writing not one, but two books about Meghan. Or one book in two parts, which is kinda the same thing. The book is called In the Shadows of the Duchess, and part one is set to drop in April — which, ICYDK, is the month of Meghan Markle's due date.
How convenient.
"I couldn't help but let it slip!" Samantha reportedly tweeted out on Jan. 27, according to E! News. "There are actually two books coming out! 'In the Shadows of the Duchess I and II.'''
She couldn't help but let it slip.
In the Shadows of the Duchess is reportedly going to be a tell-all book about 1) Samantha's relationship with Meghan and 2) about the two women's upbringing together. In her tweet announcing the fact that there will now be two parts to this thing, Samantha also included two hashtags — #April and #June — so it looks like those are going to be the months Part One and Part Two are released.
Look, I hate the fact that Samantha seems to have made it her mission to profit off talking about her sister. But I'm not gonna lie, I totally want to read both of these books.
Meanwhile, in a follow-up tweet, Samantha reportedly promised to publish photos in her books that her sister is apparently not gonna like.
"You will love some of the pictures in my book also to refute any of your nasty troll gossip that we did not have a life together," she wrote, according to screenshots obtained by E!. I'm very much your sister and if you don't like it too bad. Bring it on.. I think everyone should take a lie detector test."
Ugh, I'm so sorry the Duchess has to deal with all of this toxicity during what's supposed to be a happy time as a mom-to-be. Try to ignore your sister, Meghan, and just go right on living your best damn life!