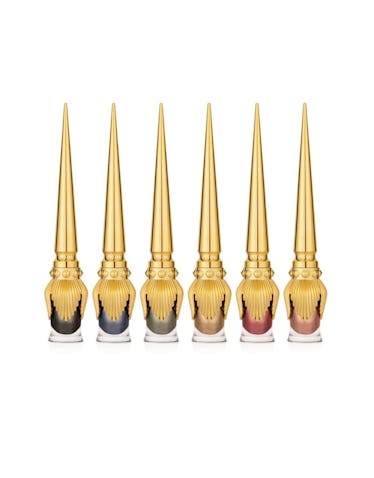 Christian Louboutin Is Dropping Eyeshadow & It's A Stiletto-Lover's Dream
It all started with Christian Louboutin's red-soled heels. The brand's shoes quickly became one of the most recognizable designs ever, and Louboutin's sexy, luxurious aesthetic trickled into the beauty world. After gorgeous nail polishes and lipsticks, get ready to give your eyes the Louboutin treatment. You may be wondering how much Christian Louboutin's eyeshadows cost, and what they look like, and well, they're practically a work of art.
Louboutin's signature soles are so coveted that the brand won a lawsuit in Europe to trademark the red bottoms. Why do Louboutins have red soles, though? The shoe designer was actually inspired by his assistant's red nail polish. "Frustrated after having tried different things to liven up the design, I spontaneously grabbed my assistant's red nail polish and painted the sole. I instantly knew that this would be a success!" Louboutin says to artflyer.
The iconic red-bottomed shoe has been around since 1993, and finally in 2014, Louboutin decided to pay homage to the origin of the design. Rouge Louboutin ($50; christianlouboutin.com) is the exact color of the shoe bottoms, and there's even a corresponding Loubi Under Red ($45; christianlouboutin.com) with a special brush to paint the underside of your nails red. But I digress.
Christian Louboutin has vastly expanded their beauty line to include so much more than nail polish. There are three different fragrances, lipstick and lipliner, mascara and eyeliner, and now, finally, 12 liquid eyeshadows!
Exactly. There are six matte shadows and six metallics and I might go broke buying them all.
Christian Louboutin Matte Nude Eye Colour
The matte nude colors are, from left to right, Zefira (deep taupe nude), Louana (cognac nude), Daria (camel nude), Lea (cream nude), Lola (pale pink nude), and Mariza (plum brown nude). This line of shadows is inspired by Christian Louboutin's Nudes shoes, which expanded the color "nude" to apply to shoes for a wide range of skin tones. The eyshadows aren't meant to be legitimately nude — because then why would you wear it — but a range of natural, earth-tone shades.
Christian Louboutin Matte Nude Eye Colour in Mariza
My favorite of the matte colors is Mariza — it's a beautiful autumn color that looks like it can be used from day to night. Each bottle comes with an applicator brush attached to the stiletto heel-inspired cap.
Christian Louboutin Metallic Eye Colour
The metallic hues are super rich in color and shimmer. From left to right, the colors are Saphire Noir (golden black), Iolite (iridescent blue), Andalusite (shimmering sea-green), Pyrite (bronze brown), Carnelian (rich wine), and Morganite (rose gold). All six of these glitzy options are branded as "highly-reflective" and look like they'll be a lot of fun to play around with.
Christian Louboutin Metallic Eye Colour in Iolite
I'm most intrigued by the deep blue Iolite bottle – it's hard for me to resist a good smokey eye look.
Plus, it would basically be like wearing these killer shoes on my eyelids.
The liquid eyeshadows are currently available for pre-order online at Saks, with an official web launch date of Sept. 15, and an in-store drop on Oct. 1. Go get 'em!