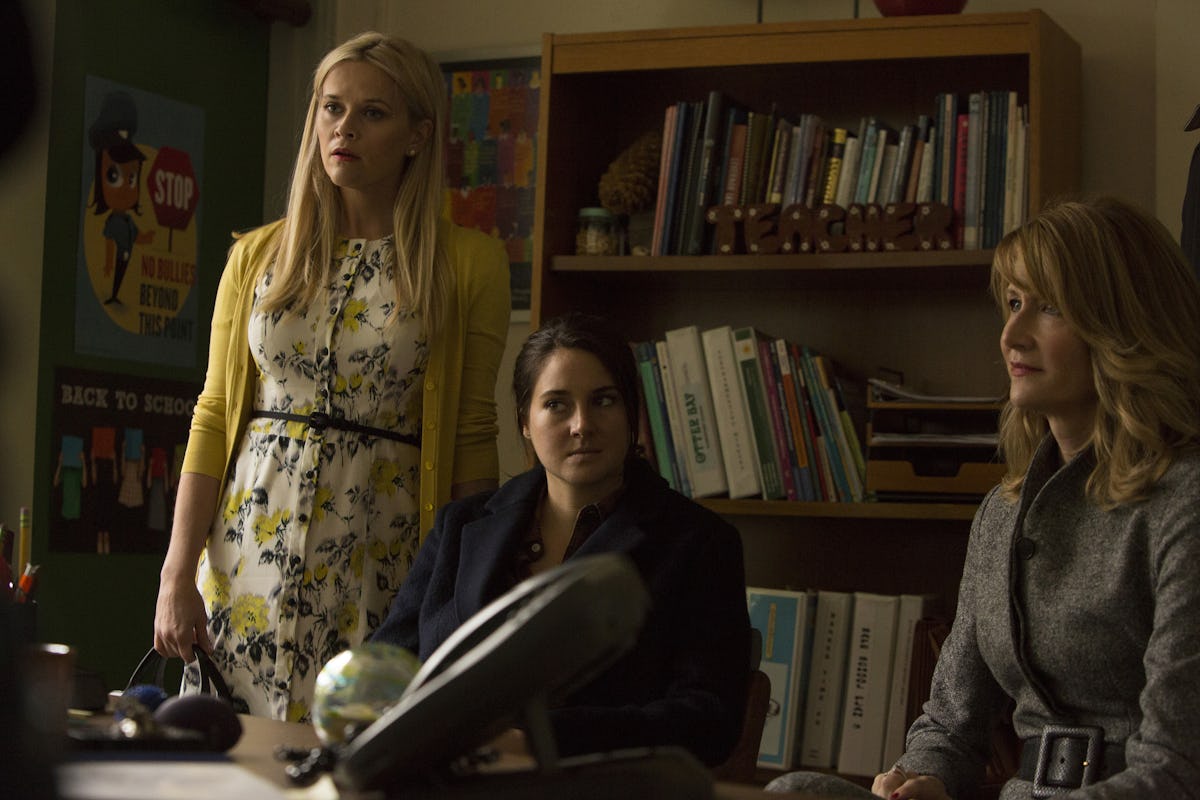 The 'Big Little Lies' Stars Are Making An Absurd Amount Of Money Per Episode For Season 2
Hilary Bronwyn Gayle/Courtesy of HBO
After receiving a spectacular response to what was meant to be a miniseries, the Big Little Lies female-heavy cast will soon return for an anticipated and completely original Season 2. Co-executive producers and main actresses Reese Witherspoon and Nicole Kidman were involved in the series from the beginning, definitely helping with its success, and now they're two of the stars that will see a significant bump in salary next season. With the issue of the wage gap so prevalent now, we have to ask: How much does the Big Little Lies cast make per episode?
As actresses alone, Witherspoon and Kidman reportedly made anywhere between $250,000 and $350,000 per Season 1 episode — their producer pay hasn't been disclosed. With Kidman towing practically every major TV award for her performance to the Season 2 set, she and the oft-nominated Witherspoon return as cast members and producers worthy of increased salaries. The Hollywood Reporter says that both women will receive $1 million per episode of the new season for their acting jobs. So deserved! The pay rise is credited to both the success of the show and the reported $1.25 million per episode deal that Witherspoon signed for an Apple TV series with Jennifer Aniston.
As Big Little Lies was only meant to tell the story of Liane Moriarty's original book, the decision to produce a second season likely encouraged Kidman and Witherspoon to create more specific and rewarding contract terms before finalizing the decision. They're not the only ones to get a paycheck boost — after reportedly earning a total of $380,000 in Season 1, Zoe Kravitz will receive a hefty $3 million by the end of Season 2. Shailene Woodley will also see a raise from her overall Season 1 salary of $1.7 million.
HBO certainly has the budget to pay their actors so well, but it's extremely fitting that salaries specifically catering to the depth of these women's roles are issued. Witherspoon and Kidman seemingly coming together to assure the best for themselves and their colleagues emphasizes what demanding what you deserve results in. Such movements were recently seen when E! host Catt Sadler left the network because of a pay disparity and Grey's Anatomy star Ellen Pompeo signed a new deal that will pay her $575,000 per episode, the highest amount of any current network drama actress. Women get things done, guys.
If you weren't already convinced of Big Little Lies providing a forum for women to flourish, Season 2 is set to become even more empowering for industry women. Director Andrea Arnold will direct all seven episodes, taking over from Season 1's Jean-Marc Vallée. While speaking backstage at the Golden Globes after the show won Best Miniseries or Motion Picture Made for Television, Witherspoon said of Vallée:
We are so deeply grateful to Jean-Marc Vallée. His vision for these characters, the way he guided us — everything. He put his artistry and his heart and soul into it...Unfortunately he was busy, we did try and accommodate, but we wanted to get...the second season started soon because I do think the public wants it soon!
When Season 2 and Arnold's involvement were announced, Kidman said in a statement:
This is inspired by the overwhelming response by audiences around the world...now in the hands of visionary filmmaker Andrea Arnold. What a journey this has been. I'm so grateful to have this opportunity to keep exploring these female characters and make this series with my friends.
Sadly, the season isn't due out until 2019, which leaves plenty of time for crazy fan theories and scanning the internet for behind-the-scenes paparazzi photos. Here's to Witherspoon and Kidman for working hard to earn worthy paychecks for Season 2.