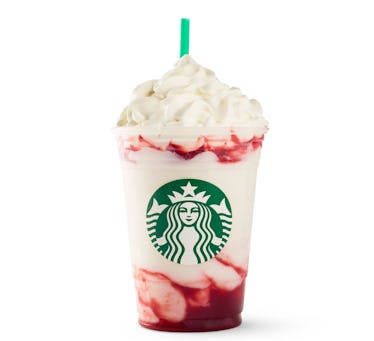 Starbucks' New Strawberry Frappuccino Is Worth Splurging On, So Drink Up
Starbucks
Living in New York City has taught me a lot of essential life lessons. A few include: the importance of "sensible shoes," why it's a bad idea to perform advanced acrobatics on the subway, and, of course, where to get the very best bagels. But in my two-plus years of living here, I still haven't mastered the art of properly organizing a coffee break budget for myself. I'm constantly splurging on over-priced caffeinated beverages and pastries, and, quite frankly, it's a real issue. However, since Starbucks just released a new drink, you might be wondering how much Starbucks' Serious Strawberry Frappuccino costs. But you'll be happy to know it's super reasonable.
According to Starbucks, the price will vary by market but Starbucks' Serious Strawberry Frappuccino costs between $4.95 and $5.45 for a grande size, which is only a little more than a Mocha Frappuccino. Or even a Salted Caramel Mocha Frappuccino, which are both acceptably-priced. So, if you take a second to think about it that way, that really isn't too shabby! You could get, like, a mere sip of coffee for that price, at some Brooklyn coffee shops (you know who you are, people). So if you're like me and you're really ballin' on a budget RN (but you're still willing to fill that relentless coffee addiction) the Serious Strawberry is definitely a sensible buy, if I do say so myself. Serious Strawberry? More like Seriously Sensible! (Ugh I'm really sorry about that, folks... I'm feelin' Seriously Cheesy).
Oh, and its taste proves that it's totally worth the splurge. Its flavor somewhat resembles a Strawberry Creme Saver or a strawberry milkshake, and it's everything I could ever want, and more. If you haven't already tried it out, the Serious Strawberry is craftily layered with swirls of strawberry fruit puree, as well as Starbucks reinvented Strawberries and Crème Frappuccino (combining ice, milk, and, of course, the classic strawberry infusion blend). It's topped off with more strawberry puree, as well as vanilla whipped cream, and let me tell you, it's magical and absolutely delicious. A masterpiece of flavors, if you will.
Oh, and aside from the taste, the Serious Strawberry is definitely worth it for its looks, alone. I mean, just look at it. It's drop dead gorgeous. With a vanilla whipped cream topping, it maintains a gorgeous magenta color (not to mention, swirls of strawberry sauce), and it's the pink-purple accessory that I've always wanted. I don't know about you, but I need to get my hands on one of these almost entirely for the sake of my wardrobe. This is a fashion emergency, people.
The debut of the Serious Strawberry is going to come hand-in-hand with another new permanent menu item, called the Chicken Chorizo & Tortilla Sous Vide Egg Bites. Comprised of chicken chorizo, chipotle salsa, and, most importantly corn tortilla strips, they're spicy, salty, and oh-so-yummy. They pack a savory punch to go along with the Serious Strawberry's sweetness, and you'll know how amazing they are if you've ever tried Starbucks' Bacon & Gruyere Egg Bites, or their Egg White and Red Pepper Bites. While they're definitely going to be one more thing to account for within your coffee break budget, I can promise you that they're worth the extra cash.
If you know me at all, you probably are aware of the fact that money is my jam. In fact, I could probably stand in as a professional bargain hunter, I won't lie. But, when it comes to Frappuccinos, particularly those of the Serious Strawberry variety, I have to say I'm pretty impressed. Not only are they not too pricey, but they're definitely worth the purchase, with all of the undeniably tasty layers, as well as its gorgeous deep shade of magenta. My wallet, my stomach are super happy, and my aesthetic has never been more on-point.