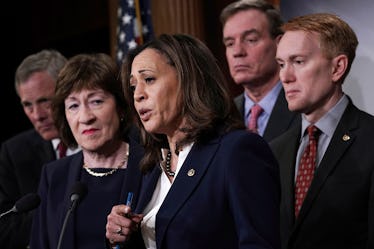 There Are Now More Women In Congress Than Ever, But Don't Celebrate Yet
Alex Wong/Getty Images News/Getty Images
On Tuesday, April 24, Arizonans voted in Republican candidate Debbie Lesko, and her win was a big deal. A special election was held to fill the seat for the state's 8th district after it was vacated by Rep. Trent Franks late last year. Lesko's win Tuesday is about more than party affiliation, though — her victory has changed how many women are in Congress.
"So honored to get a congratulations call today from both @realDonaldTrump and @VP," wrote Lesko on Twitter Wednesday. "#ThankYou to the #AZ08 voters for putting your trust in me!"
With the addition of Lesko, the U.S. Congress has broken a record for women's representation. According to the Center for American Women in Politics, 107 women now serve in the 115th Congress, the most it's ever had. Women now comprise a historic 20 percent of the voting members. Of these 107 women, 78 are Democrats and 29 are Republicans; 84 are voting members of the House of Representatives and 23 are Senators.
"For the first time, women will hold 20 percent of all congressional seats," said CAWP in a statement. "They will be 19.3 percent of all members of the House of Representatives and 23 percent of all members of the Senate." The percentage will officially change once Lesko takes office.
Still, 20 percent is nowhere near the 50-percent share women comprise of the U.S. population. So while it's a historic moment, it's hardly close to the percentage needed to achieve equal representation.
Lesko joins her colleagues Reps. Marthy McSally, a fellow Republican, and Kyrsten Sinema, a Democrat, in serving in the House on behalf of Arizona. As CAWP points out, the state has yet to elect its first female Senator.
Her addition to the House by itself is not a record-breaker, CAWP says; there were also 84 women representatives serving in the previous and current sessions. But there has been a significant amount of turnover in the House the last several months, leaving the House with six vacancies as of writing, per the U.S House Office of the Clerk. (There are normally 435 representatives, for a total of 535 members of Congress.)
Trent resigned in December following the news that the House Ethics Committee was investigating him for apparently discussing parental surrogacy with two female aides. But he was one of several to leave.
In a statement, Trent acknowledged the investigation and clarified his behavior, writing, "I have absolutely never physically intimidated, coerced, or had, or attempted to have, any sexual contact with any member of my congressional staff. ... I deeply regret that my discussion of this option and process in the workplace caused distress."
This year alone, there have been four exits in the House, beginning with the resignation of Ohio's Patrick Tiberi. With the death of Rep. Louise Slaughter in March, the overall percentage of women in Congress had dipped. But Rep. Blake Farenthold resigned in April, following the news that he'd used taxpayer money to settle a sexual harassment case. Farenthold said in a statement that he promised to pay back the money, denying some allegations and and apologizing for his behavior.
His resignation was followed by that of Rep. Jim Bridenstine on Monday as he was sworn in as NASA administrator. With several more male representatives leaving this session than their female counterparts, women's overall share went up to break the 20-percent mark.
Lesko's competitor in the special election was, notably, another woman. The Arizona race, though, was surprisingly close for a district that Trump won by over 20 points. But Trump didn't miss the chance to congratulate her on a win.
"Congratulations to Republican Debbie Lesko on her big win in the Special Election for Arizona House seat," President Donald Trump tweeted Wednesday. "Debbie will do a Great Job! Press is so silent."
This year's midterm elections will continue to determine how far women can go towards bridging that representation gap. There are some promising indications. There are a record number of women running for office this year; among them, for high-profile seats, such as Speaker of the House Paul Ryan's, and a shocking number of black women who are putting their names on ballots.
And women are poised to take more seats this November. As of April 6, according to the Associated Press, women had broken a record in the number of candidates that had filed to run for the House. So if the sheer volume of candidates translates into wins come election day, Lesko might get even more female company this year.