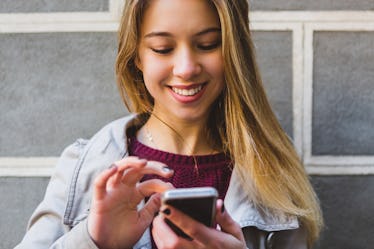 Women Reveal How Many Matches They Really Have In Their Tinder Bank
In college, a friend invited me to a party at her apartment to celebrate hitting 1,000 matches on Tinder. Like the true queen she is, she had also invited dozens or maybe even hundreds of her matches, just to see what happened. For the record, I don't think any of them actually made it to the party... but I really wish they did, just because that would have been an incredible sight to behold. It obviously takes hours (years?) of dedication to hit one thousand matches, but do you know how many Tinder matches is normal to have at once?
I asked 13 women to reveal how many matches they currently have on various dating apps, and their results were pretty mindblowing. A lot of people have racked up a thousand or more matches.
By comparison, I think my grandma briefly considered marrying two or three high school classmates before she laid eyes on the fourth man she ever saw — my grandpa — and married him.
I mean, can you imagine telling a person in the 1950s that their grandkids could have more than one thousand suitors in their pocket at any given time? That's a heck of a lot of sock hops.
Anyway, I don't think it's necessarily good or bad to have a certain number of matches. Maybe you swipe through 30,000 people and meet the love of your life in the checkout line at CVS. Or maybe you respond to the first dating app message you ever get and wind up dating him for two years, like I did in college. You do what works for you.
But in the name of voyeurism and curiosity, I asked 13 women to reveal how many matches they currently have on all their dating apps. Here are their stories.
This woman has 59 matches on Tinder.
I currently have 59 matches on Tinder! I go through 'purges' often and delete everyone I'm not talking to; I did one about two weeks ago. I'm actively talking to 12 people. Of those 12, I've been out with two, will see one again (he's actually flying me out to see him next week — we met when he was visiting my city and we hit it off), and I'm still considering seeing three or four more.
— Sharlyn, 27
This woman has 1,613 matches on Tinder and about 200 matches on Bumble.
On Tinder I have 1,613 matches... haha. On Bumble, there's no display number but I would guess around 200.
Tinder is particularly high because I've used it on and off since 2014, and I was traveling and living abroad, which led to me using it more frequently. I definitely have not spoken or met up with most of the guys I've matched with. If I match with someone I'm particularly interested in, I'll make the first move and message them. Especially on Bumble because I have to. I don't find it very overwhelming because even though I may get a lot of matches I'm not talking to everyone.
Sometimes I'll be talking to three or four guys at the same time, but ultimately the conversation fizzles out — one of us has ghosted the other, or we made plans to meet up but one of us canceled. So out of the three or four, I'll end up meeting one or maybe two.
— Christina, 24
This woman has 15 matches on Bumble and 10 matches on Hinge.
On Bumble, I have 15 active matches, and a ton of expired ones. I get REALLY overwhelmed by Bumble. If I've been active, I'll be swiping and match every time, and I literally have to stop swiping because I get too many matches.
On Hinge, I get like five people who like me a day, and I maybe accept one a day. But there's 10 matches in my app right now. I like Hinge's platform more, but I wish I liked the options sent to me more.
On Bumble, regardless of whether I do a clever intro a basic one ('Hi Tom!'), it almost never produces a date. On Hinge, I'll get more dates pretty quickly but it just takes time to find the right people.
— Elle, 29
This woman has 13 matches on Bumble and 720 matches on Tinder.
On Bumble, I have 13 matches with guys who are waiting for me to 'make my move' and I'm actively chatting with six guys. I probably have around 300 conversations with guys that have fizzled out. On Tinder, which I basically only use when I'm bored, I have 720 matches, but I'm not actively talking with anyone. I'm not as invested in using the apps as I used to be, because it starts to feel exhausting. In my experience, guys aren't interested in forming an actual connection or keeping open and honest communication throughout the dating process, despite my best efforts.
— Holly, 26
This woman has eight Bumble matches and had about 30 JSwipe matches.
I actually deleted my JSwipe a little over month ago because I met someone on it, and we decided to both delete ours. Unfortunately, he was not the person I thought he was, so we're over as of two weeks go. I believe I had about 30 matches before I deleted the app.
I made a Bumble a week ago and I have eight matches right now. The rest expired.
— Jessica, 24
This woman has 38 matches on Hinge and had about 680 matches on Tinder.
I downloaded Hinge like two weeks ago, and currently have 38 matches. I'm chatting with five people. I definitely reached out to more, but some didn't respond, which is always a thing with these apps. Why do we swipe yes on one another if we're not going to actually to speak?
When I had Tinder I had about 680 or so.
— Regina, 26
This woman has 658 matches on Tinder and seven matches on Bumble.
I'm on Bumble and Tinder at the moment but don't use them every day. I have 658 matches on Tinder and seven active matches on Bumble. I don't really speak to that many of them, to be honest — I normally swipe when I get home from work because it's something to do. And my hours mean I get home pretty late, so they tend to think I'm after one thing only when I match at like 2 a.m.! I'd say I speak to about 20 percent of my matches in total.
— Rishma, 26
This woman has about 150 matches on OkCupid and 45 matches on Bumble.
I have about 150 matches on OkCupid, which I've used since this past June, and about 45 matches on Bumble, which I've had for a month!
Honestly, it gives me a superficial confidence boost, when I match with almost every guy I swipe on. However, unless I am really into a person, I wait until they message first. Otherwise I would really overwhelmed by trying to start conversations with people.
I probably chat with about half of my matches, and then meet up with a quarter of those people. I've been out with 12 men since I started using apps.
— Chelsea, 23
This woman has 1,149 matches on Tinder and zero matches on The League.
I'm only 'on' Tinder and The League, but only in the sense that I don't want to delete them, LOL. All of my matches from The League have expired, because I never speak. To this day, I have 1,149 matches on Tinder, of which I have to spoken to zero in the last, like, entire summer. I kind of use it as a weird anthropological tool. I like to see the kinds of people that I attract, and then I find that I pay more attention to those kinds of people IRL because I'd prefer to think there's still a chance of a meet-cute
— Whembley, 24
This woman has 35 matches on Tinder.
I think I pretty much forget most of them are there. Usually, you talk to one or two people for a few days and then they just go quiet after a while. Right now, I'm not talking to any of them.
— Maria, 25
This woman has about 60 matches on Hinge and about 15 on JSwipe.
I have about 60 on Hinge and about 15 on JSwipe. I probably end up talking to four or five people a week. I usually go on a date once a week or so.
It's manageable because I don't put so much pressure on myself. If I feel like responding, I will, but I'm not obsessing over it. I got out of a relationship in July so I'm not quite ready to seriously date someone, so I'm kind of using the apps to put myself out there. If something ends up coming out of it, then that's great. If not, I don't sweat it.
— Tess, 24
This woman had 15 matches on Hinge.
I only used it for like a week after my breakup. I wound up matching with a guy and we've been out three times recently. I haven't been active on it since.
— Molly, 24
This woman has more than 1,000 matches on Tinder.
Can I just say 1,000+ on Tinder? Of those matches, I've had some really good dates and I've had some absolutely terrible dates. I've met men who have become my boyfriend, and men I've never wanted to see again in my life.
That's kind of why I like Tinder. I think it's the app that is most reflective the population and you could meet someone you could actually just meet by chance in your neighborhood.
You kind of know where they work, or what they look like, and maybe one random fact about their Mexican food of choice, but that's it. I like that there's still a semi-organic part of knowing their personality.
— Ericka, 24
Check out the entire Gen Why series and other videos on Facebook and the Bustle app across Apple TV, Roku, and Amazon Fire TV.
Check out the "Best of Elite Daily" stream in the Bustle App for more stories just like this!