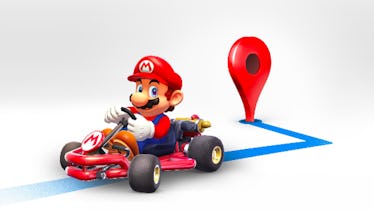 Mario Won't Be On Google Maps Much Longer, So Let's-A Go Before It's Too Late
"Let's-a go," everybody! It's time to drive around with Mario on Google Maps while you still have time. In case you haven't heard the '90s hype, your Google Maps app has basically been turned into a game of Mario Kart (minus the problematic turtle shells, of course). However, it won't stay like that for much longer. How long will Mario be on Google Maps, you ask? Well, let's just say you should take advantage of the fun feature ASAP.
It turns out Mario will only be riding around your phone screen until March 17, 2018. Yup, that means there are only a few days left to drive around with your favorite plumber-gone-racer, so make sure you give it a try before it's too late. While you're driving, please refrain from throwing bananas as other cars on the road. It doesn't work like that IRL, whether Mario is leading the way or not.
I know you might be wondering why Mario is being featured on Google Maps right now, and the answer makes total sense. He was brought onto the app on March 9 (just in time for Mario Day on March 10, aka "MAR10"), and was slated to stay on the map for a little over one week. Google collaborated with Nintendo to bring this nostalgic feature to life, and I can't thank them enough. I'd take Mario as my copilot in the car any day.
Now that you're all scrambling on your phones trying to get Mario on your Google Maps screen, let me tell you how to do it. The concept might seem straightforward — but believe it or not, I had some trouble at first.
In order to bring Mario onto your Google Maps screen, you must update your app in either Google Play or the App Store (depending on what kind of phone you have). Once Google Maps is updated and ready to go, open it (obviously). After you open the app, type in the address of your destination. Then, hit "directions" at the bottom of the screen. After you hit the "directions" button, you'll be taken to a map with transportation options. Make sure you choose the "driving" option.
Now, before you hit "start," you must click on the gray "?" box at the bottom righthand corner of your screen. Once you do that, you should be prompted with a message that says, "Oh yeah! Mario time!" Once you see that message, hit "Let's-a go!" Then, let Mario lead the way.
Aren't you excited to give it a try? I was pretty much ecstatic the first time I brought Mario to my Google Maps screen, because it brought back so many memories. When I was a kid, me and my sister would sit in our play room for hours playing Mario Kart. I was always Princess Peach, and she was always Yoshi. We spent so much time racing through Rainbow Road and Koopa Beach. Ah, the good old days.
Sorry about that — I took an unexpected turn down Memory Lane, but let's get back to Google Maps. If you're having trouble getting Mario onto your screen, there might be a few reasons why. First and foremost, make sure your app is updated. I know this seems like a silly step, but I overlook it all the time. Then, make sure you're in "driving" mode. The first time I tried getting Mario on the map, I was in "walking" mode, and it didn't work. If those reminders don't help you, triple check that you're hitting the gray "?" at the bottom righthand corner of your screen before starting your journey.
Like I said, Mario is only on Google Maps until March 17, so drive with him while you can. But remember: It's not a race IRL. Drive safely and enjoy some quality time with your old friend, Mario.