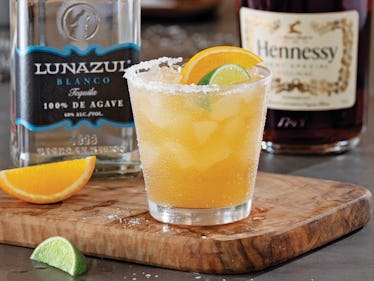 Chili's Latest Fall Drink Won't Be Around Much Longer, So Get Your Fix ASAP
Well, folks, I really hate to say it, but it looks like autumn is slowly but surely coming to an end. The leaves are falling off the trees, the weather is getting colder and colder, and that jack-o-lantern on your neighbor's doorstep is inevitably starting to sag. The worst part of it all, however, is that most of my favorite fall cocktails will start disappearing from all of my favorite drink menus. And if you love fast casual Tex Mex like I do, you might be wondering how long Chili's $5 Hennessy's Harvest Margarita will be available. Get ready, though, because it won't be around for much longer.
Leaving the house can be kind of a drag (especially amidst the chillier months) but Chili's Margarita of the Month is always worth a trip outside, and I can pretty much guarantee that it'll warm you up. November's limited-time margarita is known as Hennessy's Harvest, and if you've never given it a shot (or, rather a sip), it's concocted with Lunazul Blanca Tequila and Hennessy cognac, according to the chain's Twitter page. The drink has super strong citrusy notes, with hints of lime and orange flavors, and I don't know about you, but it's everything I could hope for in a festive fall cocktail. Unfortunately, though, it won't be around forever.
Hennessy's Harvest, according to the Chili's website, is only around "all month long," and since it's November's Margarita of the Month, that means it will most likely be gone by the start of December. So, make sure you trek out to Chili's as soon as humanly possible to get your Hennessy's Harvest fix — you only have a few weeks left before every last drop is gone.
One glass of Hennessy's Harvest will only cost you a fiver, so it goes without saying that one (or even a few) definitely won't break the bank. Two will only cost you a tenner, and three will only amount to $15. And while that might sound unbelievable, it's totally true. As long as you can legally drink in the U.S. (at 21 years or older), you can sip to your heart's content. You literally have nothing to lose, so grab that valid I.D. as well as a designated driver (I swear, these bevs are strong as can be!) and you'll be good to go. To be completely honest, I wouldn't even mind trekking through this wild November snow storm to go with you. Bring it on.
If you're all about sipping boozy fall beverages beyond the month of November, you can make some for yourself in the comfort of your own home. Mix up an Apple Cider Mimosa or blend together a Maple Bourbon Cocktail. Regardless of what you decide to make, I know it'll be absolutely divine.
In these last few weeks of fall, I'll definitely be bidding a solemn farewell to all my favorite sips. Chili's Hennessy's Harvest is definitely one of the greatest of them all, though, so make sure to get one for yourself before they're all gone. It'd be a real shame to miss out on these festive fall cocktails entirely.