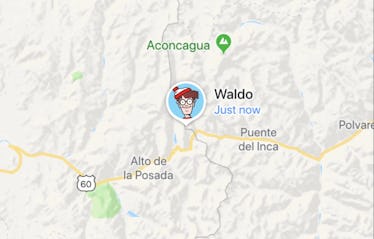 The 'Where's Waldo?' Game On Google Maps Will Be Gone Soon, So Join The Adventure Now
If you've opened Google Maps for directions lately, then you've been pleasantly surprised by a recently released feature. Google introduced the Where's Waldo? game for Google Maps at the end of last week, and users have been enjoying the opportunity to search (once again) for the famous children's book character dressed in his iconic red-and-white striped ensemble. If you haven't yet had the chance to revisit your childhood by playing the new game, you might wonder how much time you have left to search for your old pal Waldo. So, how long is Where's Waldo? on Google Maps?
The good news is you still have some time to whip out your magnifying glass to find Waldo as he hides from you in places like PyeongChang, South Korea and Surfer's Paradise Beach in Australia. I wouldn't take too long to play, though, because the Where's Waldo? game will be gone by the end of the week, according to the Google's announcement of the game. The game was introduced on Saturday, March 31 in a Google blog post penned by none other than Waldo himself, and he invited users to "join in my amazing adventures for April Fools this week."
Given that April Fools Day was Sunday, April 1, the time is winding down for you to play. According to a Google spokesperson, "Where's Waldo? will be live in Google Maps for the next few days."
Once you set aside time to play, you can search for Waldo and his entire crew from your phone, tablet, or laptop. That's right, you don't even have to be headed anywhere following directions in Google Maps to play the Where's Waldo? game. Accessing the Where's Waldo? game from a laptop or desktop is super easy, because all you have to do is go on the Google Maps website. If you're playing the game in the Google Maps app, you'll want to make sure the app is updated. Once it's up-to-date, you can join Waldo when he invites you to play after you've opened the Google Maps app on your phone or tablet.
According to Google, you can also ask your Google Assistant (if you have it on your phone, Chromebook, or Home device) to help get you started on your Where's Waldo? adventure. All you have to do is say, "Hey Google, Where's Waldo?" to get the ball rolling (too bad finding Waldo isn't that easy).
After you accept the invite to play the Where's Waldo? game, the real fun begins. You'll search for Waldo (of course) along with his friends Wenda, Woof, and Wizard Whitebeard. Even the not-so-friendly Odlaw is hiding in the game (villains gotta "vil"), so keep an eye out for his black-and-yellow striped shirt as you play. You can find all five characters in each level of the game, but locating Waldo is your number one priority. As soon as you find Waldo, you unlock a badge to the next level.
The game is perfect if you've been bitten by the wanderlust bug but don't have the time for an international getaway at the moment, because you'll search for the Where's Waldo? crew in exotic places like the Andes Mountains in Chile and Buñol, Spain. Fair warning: the Buñol search takes place during La Tomatina (which is the world's largest tomato festival), and the bright colors in the scene will definitely present a challenge — so come prepared with your well-honed childhood "I spy" skills.
As soon as you remember how awesome you are at finding Waldo, you can share your triumphs by taking a screenshot of your Waldo success and sharing it with Google Maps on Twitter and Instagram.
I must say that Google is really bringing it with the throwback features lately. Last month, they celebrated Mario Day (March 10) by introducing a weeklong feature called Mario Time that let you bring your favorite video game pal Mario from Mario Kart along for all of your rides in the Google Maps app. Mario replaced the traditional navigation arrow on your route to make your travels that much more fun (and nostalgic).
The Mario Time feature may be gone now, but the Where's Waldo? game is available for a few more days on Google Maps, so start searching!