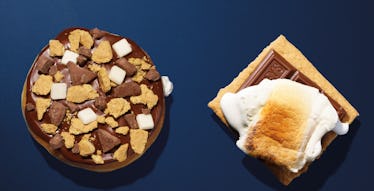 Celebrate National S'mores Day With Dunkin's Gooey, Marshmallow-Filled Donut
Dunkin' Donuts
Let's be real, here: A campfire isn't complete without a plate full of gooey s'mores. I mean, how can you resist melted chocolate, warm graham crackers, and toasted marshmallows? My mouth is literally watering just thinking about the summertime delicacy. Luckily, National S'mores Day is Friday, Aug. 10, and I am so ready to celebrate. Apparently, Dunkin' Donuts is celebrating, too. The company quietly reintroduced its S'mores Donut in July 2018, and it's the perfect treat for anyone craving the sweet snack. For those of you wondering how long Dunkin's S'mores Donut is available, don't fret. The limited-edition dessert is sticking around for the holiday.
The S'mores Donut was announced in a July 30 press release that introduced Dunkin's new snacks, so it was easy to overlook its comeback. However, the S'mores Donut is back on Dunkin' shelves and ready for your summertime festivities. Even better, it's available for National S'mores Day. So, instead of buying a box of graham crackers, a bag of 'mallows, and a few chocolate bars, just purchase a S'mores Donut and enjoy all of its flavors in one bite. Don't wait too long to try it, though — because the donut is only available for a limited time. According to Dunkin' Donuts, it will only be available until the end of the month (or while supplies last).
So, what's the difference between a S'mores Donut and a real s'more? Let's just say you'll want s'more donuts when I tell you (I crack myself up). According to Dunkin's press release, the donut is packed with sweet marshmallow-flavored filling and topped with chocolate icing. It has crumbled graham crackers sprinkled sporadically into the icing, along with chunks of Hershey's chocolate and marshmallow-flavored pieces. This donut has every flavor you need for National S'mores Day (without the risk of burning your marshmallow).
If you're sold on the S'mores Donut and hope to grab a box for your campfire, you might be interested in Dunkin's original Layered S'mores Donut Dessert. The dessert — created by Rick Golden, the Manager of Donut Excellence at Dunkin' — takes the S'mores Donut to a whole new level. The treat consists of S'mores Donuts, chocolate icing, white buttercream, and Hershey's chocolate pieces piled into a glass bowl.
Take a look:
Not only is the Layered S'mores Donut Dessert the sweetest concoction you've ever seen, but it's also super easy to make. Before you dive into the recipe, you'll need to stop at Dunkin' for a dozen S'mores Donuts. Then, swing by your grocery store and pick up chocolate icing, white buttercream, and a Hershey's chocolate bar.
Once you have your ingredients, try to find a clear bowl to use. (If you don't have one, that's fine — a regular bowl will do the same job.) Then, start adding your S'mores donuts to the bowl and line the container with them. Dunkin' suggests cutting two donuts in half to help with the stacking process. Once you're done, pour your chocolate icing onto the donut mountain. Then, use a piping bag to create little pockets of buttercream. The last step is to add pieces of your Hershey's chocolate bar to buttercream, and voila! You're done.
The process looks like this:
If this seems like too much work for you, grab a S'mores Donut for yourself and enjoy it. Again, it's only here for a limited time, so try it while you can.
Editor's note: This post has been updated to include Dunkin' Donuts' comment on the donut's availability.