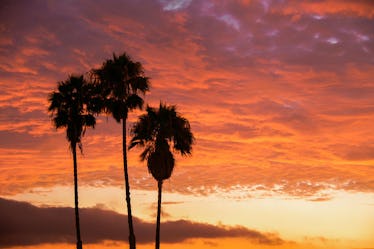 You Can Fly To California For $59 On Southwest, If You Act Really Fast
Southwest is making it possible for travelers to score roundtrip tickets around the country for less than $100 — and you don't want to miss out on the deal. As you know, plane tickets around the United States will usually cost you more than a Benjamin, but that's not the case right now. Those of you who choose Southwest can fly from Point A to Point B on the cheap, but you don't have much time. Now, you might be asking yourself, "How long does Southwest's November 2018 flight sale last?" If that's the case, you should stop wondering and start searching. You literally have less than 24 hours to choose your flight.
I'm not kidding. According to Southwest, you must buy your plane tickets by Thursday, Nov. 8 in order to take advantage of the deal. That means you'll have to think quick. Call up some friends and see who wants to take a mini vacation with you, or plan a solo trip to a city you've always wanted to visit. Just keep in mind that you'll probably have to book your flights now and do the planning later — because as soon as Nov. 8 passes you by, so will the cheap plane tickets.
Before you grab your wallet and start the booking process, you should probably know a little bit more about Southwest's November flight sale. According to the airline, the sale will help you score plane tickets throughout the U.S. and Puerto Rico. However, valid travel dates will vary depending on where you're trying to go. For instance, if you want to book some discounted flights within the continental U.S., you'll have to travel within Nov. 19, 2018 and May 22, 2019. Winter getaway, anyone?
But if you're trying to fly to or from San Juan, Puerto Rico, you have a few different options. You can either travel between Jan. 14, 2019 and Feb. 28, 2019, or between April 23, 2019 and May 16, 2019. With that being said, make sure you plan your Puerto Rico trip accordingly. Speaking of planning your getaway accordingly, you should also be aware that blackout dates apply to Southwest's sale. For more information on the airline's blackout dates, visit the Terms & Conditions section of the sale's webpage.
There's one more thing I want to make you aware of before you start looking into Southwest's discounted flights, and it has to do with the dates in which you book them. According to the airline, you'll have to buy your plane ticket at least 14 days prior to your flight if you're traveling within the continental U.S. If you're flying to Puerto Rico, on the other hand, you'll have to purchase your tickets at least 21 days in advance. Got it? Cool.
Now that you know a few key details about Southwest's flight sale, I can get into a few standout flights. Those of you specifically located in Las Vegas, Nevada have access to super cheap plane tickets to California. Take, for example, this $59 flight from Las Vegas, Nevada to Los Angeles, California. Or, check out this $49 flight from Las Vegas, Nevada to San Jose, California. With a price like that, you won't even be paying $100 for a round trip.
Of course, I'm well aware that not everyone is flying out of Las Vegas. Luckily, Southwest has a list of various flight options on its sale page. All you have to do is choose your departure city and then scan through the flight deals. Just remember: You only have until Nov. 8 to buy your tickets, so make sure you act fast.