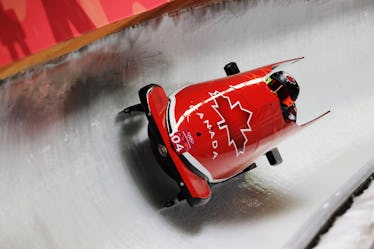 I Just Found Out How Fast Bobsleds Actually Go & I'm Crying
Sean M. Haffey/Getty Images Sport/Getty Images
Out of several super exciting Winter Olympic events, bobsledding has to be one of the best... and I swear I'm not just saying that because Cool Runnings is one of my top five favorite flicks. It's fast-paced and challenging, and it draws teams from literally all over the world. Even watching the races from my couch makes my stomach flip, and it has me wondering how fast bobsleds go. TBH, the answer definitely spooks me from ever trying it out.
According to PyeongChang 2018's website, bobsledding courses usually span from 1,200 to 1,500 meters (3,937 to 4,921 feet) long, with an average slope of eight percent to 15 percent... which, if you think about it, is hella steep. While gliding around curves, riders actually feel the pressure of four times the gravity. And while I'm definitely no physicist, that sounds beyond terrifying. The bobsled itself tends to reach an average max speed of 135 km/h. Thats almost 84 mph, which would seriously feel horrifying in a giant structure, barreling down a steep slope without any tracks. Yikes.
Even if the speed of the bobsled drops by as little as one–hundredth of a second, the team's score can be impacted. So, it's vital to try and go as fast as humanly possible. Knowing my (arguably charming) back-seat driving habits, I'm pretty positive I'd be the worst teammate in the world.
Per PyeongChang's site, bobsledding was invented in Switzerland — which, with their mountains and snow, comes as no surprise — in the 19th century. Four-person co-ed bobsledding was officially adopted as an Olympic sport during the first Winter Olympic Games, held in 1924 in Chamonix, France. Two-person bobsledding was added later on, just in time for the Olympic Winter Games in Lake Placid, New York in 1932. The women's bobsledding competition wasn't added until the 19th Winter Olympic Games in 2002, which took place in Salt Lake City, Utah. It's honestly kind of shocking that women were not racing until my lifetime.
Since you might be a worried, old spirit like myself, you're probably wondering how dangerous bobsledding actually is. Many people might wonder the same thing, since its the fastest out of all its sledding counterparts, which include luge and skeleton. Still, the bobsled actually provides the most protection to riders. Think about it: A bobsled is a giant and strong structure, which has more material protecting its passengers than skeleton or luge riders, who have very little protection other than basically just a helmet. So if you're considering taking up some sort of sledding-related sport, bobsledding is believed to be the least dangerous of them all.
Ah one, ah two, ah three... the 1993 comedy, Cool Runnings, was based on the true story of four determined Jamaicans, who defied all expectations by qualifying for the 1988 Winter Olympic Games in Calgary, Canada. And due to the fact that Jamaica, being a tropical island, always remains to be the expected underdog (and since the movie is a freakin' classic), everyone on Twitter is rooting for Jamaica's bobsled team so hard RN.
Team Jamaica is racing in the two-man women's bobsled competition in PyeongChang, South Korea, on Feb. 20 and 21. Racing will be the first Jamaican women's bobsledding team to qualify for the Winter Olympics, and we're envisioning a Cool Runnings sequel in the works.... starring Carrie Russell and Jazmine Fenlator-Victorian (a Jamaican bobsled team at the 2018 Winter Olympics) instead of Doug E. Doug and Malik Yoba. On Feb. 20, the women's Jamaican bobsled them finished in 17th place after their first run, which took 51.29 seconds.
Check out the entire Gen Why series and other videos on Facebook and the Bustle app across Apple TV, Roku, and Amazon Fire TV.