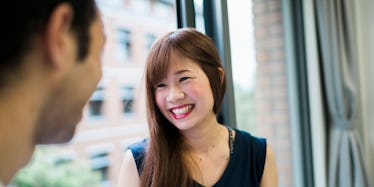 5 Things No One Tells You About How Dating Changes From High School To College
When I was in high school, I was basically counting down the days until college. It seemed like a dream: I'd live in a new place, meet completely new people, and get to learn a ton, too. I had no idea how to handle dating in college. And when I got there, I kind of went with the flow. If you're about to move onto campus for the first time, you might wonder how dating changes from high school to college.
If you dated in high school, you might have felt frustrated by how complicated and limiting the experience felt: You might have had to rely on your parents or friends to drive you to dates, you might have had a curfew, and you might have felt too awkward or scared to work up the courage to tell your crush exactly how you felt.
In college, you're typically granted a huge new sense of freedom. You're likely dictating exactly how you spend your time and who you spend it with. If you want to go on a date and it lasts until 2 a.m. on a school night, that's your own choice. You can go wherever, whenever, with whomever you want and that's likely a whole new world for many people. Here are some other ways in which dating changes dramatically from high school to college.