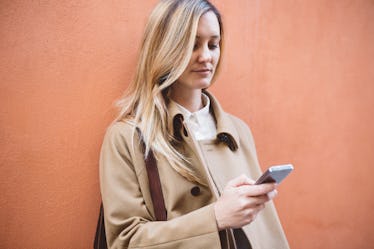 Bumble's New Feature Helps You Network On Your Phone, So Goodbye, Awkward Coffee Meet-Ups
Good Vibrations Images/Stocksy
Networking sucks. As far as I'm concerned, it's glorified sucking up, and I've never been great at sucking up, so it really has never been in my wheel house. But unfortunately, it feels like making any sort of move in your career these days is impossible to do without connections. And much to my personal disappointment, networking seems to be a necessary step in the connection-making process, which makes me want to vomit just at the thought of it. But Bumble has a new feature called "Bumble Bizz," which aims to make networking less nauseating. How does Bumble Bizz work? Allow me to explain.
Think of it like a cooler, better, more awesome version of LinkedIn that you don't feel like a total weenie using. Instead of making a classically formal LinkedIn profile, you just make a Bumble Bizz profile highlighting your professional accomplishments.
Your profile includes a digital resume and a skills section where you have the chance to outline your professional skills, talents, and accomplishments. As if that all wasn't already more than enough, you can also include examples of your work and digital profile cards on your profile.
Can you say BALLIN?!?!
Once you've got your profile all set up, the way Bumble Bizz works should be pretty simple for anyone who's ever used Bumble or Bumble BFF. You simply swipe through other professional profiles, and you're matched with profiles of other professionals geographically close to you, who are also looking to connect, mentor, and network.
Oh, and if you're worried about your potential new mentor being a phony, don't be. Bumble Bizz also puts all profiles through a photo verification process to make sure the person really is "who they say they are."
So, once you swipe right on the profile of someone you're interested in connecting with, if it's a match, you can begin chatting. Bumble Bizz hangs on to Bumble's signature feminist ethos by still having the women make the first move. According to an official statement released by Bumble, they hope that this model will follow suit with their other services and help keep negative behavior to a minimum: "By empowering women to make the first move in Bizz, Bumble expects to see the same significant uptick in positive behaviour and dramatically reduced abuse rates that it has seen in its dating and friendship platforms."
So, ladies, get your business networking opening lines ready! I have a feeling that "f*ck, marry, kill" line you've been sending out to all the frat bros you've been matching with might not work quite as well for your potential business connections.
As A-list as I like to think I am, Bumble Bizz has also gotten some support from actual A-listers. Which A-listers, you ask? Actress and entrepreneur Kate Hudson; actress and activist Priyanka Chopra; InStyle Editor-in-Chief Laura Brown; supermodel and Kode with Klossy Founder Karlie Kloss are all supporters, just to name a few. And as a way to show that support, these women and more will all share their "one connection" stories to explain just how one connection changed their life.
And that's what this really all comes down to. One connection has the power to change the course of your entire career path. I wouldn't be in New York City in the editorial industry pursuing my dream career if the door hadn't opened for me to get a solid internship through a connection. Having just one connection is really a powerful tool, and Bumble Bizz hopes to provide women with the tools to make that one connection in an easy, safe, and less intimidating way.
Log onto Bumble Bizz (available now in the U.S, U.K, France, and Germany) simply through the regular Bumble app and make your one connection today!
Check out the entire Gen Why series and other videos on Facebook and the Bustle app across Apple TV, Roku, and Amazon Fire TV.
Check out the "Best of Elite Daily" stream in the Bustle App for more stories just like this!