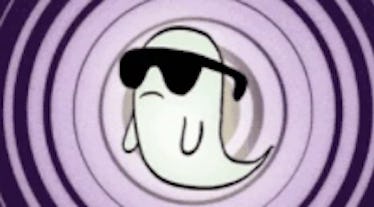 This Helpful Ghost Cartoon Will Make You The Most Fashionable Spirit of Halloween 2017
When it comes to classic Halloween costumes, a ghost is definitely right up there at the top of the list. The thing is, it's tough to put a creative twist on such an old standby. So if you're wondering how to dress up as a ghost, check out this handy cartoon guide that will make you the most fashionable ghost at any Halloween party this year.
According to Mashable, you have Gemma Correll, who is a cartoonist, writer, and illustrator, to thank for these new twists on an old favorite. She posted a cartoon she drew that features 16 different takes on the ghost costume to Twitter on Wednesday, Oct. 18. That's right, now you can take your other-worldly costume way beyond a simple cut-out sheet this year.
Now, you might be thinking that it's impossible to come up with that many variations on a pretty standard costume, but after looking at the cartoon, you'll be glad Correll came up with them, because you'll be the big winner rocking the "Cropped" ghost look at your Halloween bash.
Twitter definitely came on strong with opinions on the best styles and praise for Correll's creativity. If the year written on the cartoon is accurate, Correll has been the pioneer of alternative ghost fashion since 2014.
Take a look at all the boo-tiful options you have this holiday.
There really is something for every style here. You can still get in on the ghost fashion game even if you're headed to a more formal Halloween soirée. All you need to do is finish off your look with a top hat and bowtie (naturally) and you'll fit in seamlessly.
Twitter got to praising Correll's out-of-the-box ghosts right away.
This one cuts right to the chase, and she's not wrong.
Oh, clever-brain envy is all too real.
At least you can benefit from Correll's cleverness when you dress up as a "Peplum" ghost this Halloween.
They may be known for their scares, but sometimes ghosts are good for a laugh, too.
See? laughs.
Once Twitter gave Correll her due, the opinions on specific ghost fashions began rolling in.
The utility of "Cargo" ghost was questioned.
Hmm, what do ghosts carry? Unfinished business, maybe.
Another commenter thought "Cargo" deserved the top spot.
If Sporty Spice was your go-to '90s costume, then "Sporty" ghost is definitely for you.
Sometimes it's the simplest puns that bring the biggest laughs.
Some couldn't decide which style would suit them best.
A "Pleated" ghost is such a welcome change to the ever-baggy style of the classic.
Once again, the ghost is more flattering and fashion-forward with a "Slim Fit."
Seeing as Oct. 31 is just around the corner, Correll released her ghost fashion guide just in time. If you're partial to a last-minute costume, you can now go a different route other than throwing on cat ears and a tail for the third year in a row. And now, thanks to Correll, you can even channel the stress of finding the perfect clever and creative Halloween getup into your costume this year. If that's not exactly what the "Distressed" ghost is for, then I don't know what it is.
So, stop the frantic search for a Halloween costume, because Correll's wit and clever takes on the old classic will make sure that you rock a ghost costume that is anything but tired. You'll likely be the only one at this year's Halloween party that dressed up as a "Designer" ghost. Plus, you'll be rocking the perfect pun of "Argh-mani" right on your costume to make sure no one mistakes you for one of a handful of Caspers in the crowd.
Check out the entire Gen Why series and other videos on Facebook and the Bustle app across Apple TV, Roku, and Amazon Fire TV.