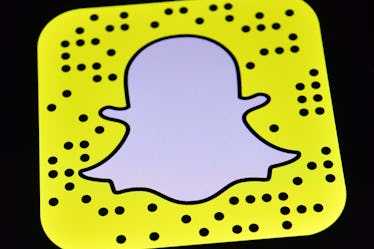 This App Will Let You Rock Out With Musical GIFs On Snapchat
Carl Court/Getty Images News/Getty Images
Grab your headphones and get ready to jam, because Snapchat is rolling out a new way for you to express yourself. If you consider yourself a GIF know-it-all, you're going to love this. Snapchat has teamed up with TuneMoji to offer musical GIFs for you to add to your chats and Stories. It's a first-of-its-kind partnership for Snapchat, and I can't wait to test it out. How do I get Snapchat's and TuneMoji's musical GIFs? It's easier than you think.
According to Business Insider, Snapchat is working with TuneMoji to bring musical GIFs to your Snapchat app. Elite Daily reached out to Snapchat about the partnership but did not hear back at the time of publication. The integration of TuneMoji will let you add musical GIFs to a chat or Story, so you can express yourself in a whole new way. If you've ever sent a GIF within a text message or using an app before, TuneMoji basically functions the same way. There's a search bar at the top where you can type in keywords to find a GIF that fits your mood. When you can't find the words to describe how you feel, TuneMoji will let you search for a GIF using emojis.
To get in on the fun, you'll need to download the TuneMoji app. Oh, and this is a good time to make sure your Snapchat app is up-to-date, too. Once TuneMoji is downloaded, open the app and find the GIF you want to send or add to your Snapchat story. Tap the video. This will open up to a new screen within the third party app. Underneath the GIF, you will see a gray box with three white dots in the lower righthand corner. Click on the box. This will open up nine different ways you can share the GIF, including on Snapchat. Tap the Snapchat icon. This will open the app on your phone with the musical GIF already loaded up.
From there, the ball is in your court. If the musical GIF is really something extra and the whole world needs to see it, click the blue arrow in the bottom righthand corner to send in a chat to a friend or group. GIFs are a language all of their own. Now, you'll be able to set the mood using a musical GIF to say what you need to say. (In case you were wondering, you can use TuneMoji to send musical GIFs via text message, Instagram, and other platforms, too.)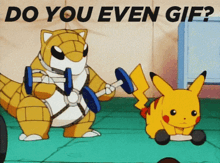 According to Business Insider, Snapchat and TuneMoji are currently working on a way to integrate musical GIFs directly into the SnapChat app. This way, you won't have to close out of one just to use the other. If you ask me, taking 10 seconds to send a musical GIF is so worth it. There's no feeling like responding to a situation with the perfect GIF — and adding music just takes it to another level.
Musical GIFs are just one more way you can add a little something extra to your Snapchat Story or group chat.