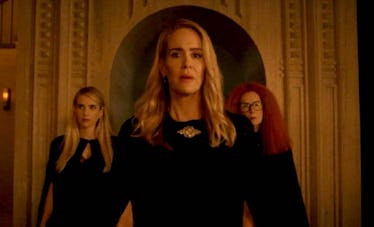 This New 'AHS: Apocalypse' Pic Might Reveal How The Witches Survived The Apocalypse
FX
Even though it feels like it just started, American Horror Story: Apocalypse is already nearly at its end. With just two episodes left in this season, fans have more questions than ever about how the nuclear apocalypse actually came about, and how the witches can possibly stop Michael Langdon. Thankfully, Ryan Murphy may have just hinted at the answer to another one of the big, lingering questions of this season: How did the AHS witches survive the apocalypse? The showrunner's latest Instagram post has fans theorizing about how Cordelia Goode, Myrtle Snow, and Madison Montgomery were able to stroll into Outpost 3 earlier this season.
Spoiler alert: This post will discuss plot details up to and throughout Episode 8, "Sojourn," of American Horror Story: Apocalypse. The big thing that AHS fans are waiting for this season is a return to the future-set Outpost 3 storyline. For the first three episodes, viewers saw a group of wealthy socialites and teens mysteriously hand-picked for their DNA attempt to survive for years under quarantine in an underground nuclear bunker following the apocalypse. After pretty much everyone in that bunker was killed, Coven witches Cordelia Goode, Myrtle Snow, and Madison Montgomery somehow walked through the nuclear fallout and into Outpost 3 to revive Coco St. Pierre Vanderbilt, Dinah Stevens, and Mallory, revealing them to be fellow witches under an identity spell. This kicked off an extended flashback sequence to before the apocalypse, which has surprisingly now comprised more than half of the season.
All of the major questions about how this season will end go back to this distant Outpost 3 storyline, but after the trailer for next week's penultimate episode teased that it would still be set in the flashback, fans are more anxious than ever to see how the show will squeeze answers to all our questions into only the season finale. But, it does look like we will be getting one big answer this week: Ryan Murphy recently shared a new photo of Cordelia, Myrtle, and Madison covered in dirt or ash and standing in the nuclear fallout of the post-apocalypse landscape. The photo definitely seems to promise that we will be finding out how the three witches were able to not only survive the apocalypse, but are also seemingly resistant to nuclear contamination.
And some fans have even more specific theories about what the witches went through to become apocalypse-proof. One Redditor pointed out that the new photo appears to include Misty Day's shack from Coven in the background. If that's the case, then perhaps Cordelia, Misty, and Madison are so dirty because Misty was able to encase them in her powerful Louisiana mud ahead of the nuclear bombs dropping.
We first saw Misty's mud at work in Coven, where it was shown to have incredibly powerful healing and rejuvenatory properties, even the ability to cheat death. If this theory proves true, then Misty could end up being the key to keeping the witches alive and ultimately saving the world.
American Horror Story: Apocalypse will air its final two episodes this Wednesday and next Wednesday at 10 p.m. ET on FX.