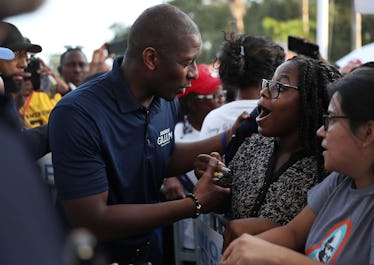 Millennials Made A Big Change In The Way They Voted In The 2018 Midterms
Joe Raedle/Getty Images News/Getty Images
After months of intense campaigning on both sides of the political spectrum, the midterms are finally over, and now the rest of us are dealing with the political hangover. Considering reports that millennials turned out in force to vote, you might be wondering how millennials voted in the 2018 midterms. Well, according to reports, millennials overwhelmingly went blue.
According to exit polls reported by NPR, two-thirds of people age 18-29 voted Democrat, which is a major bump from previous midterms. in 2014, the youth vote was more evenly split, with 54 percent of millennials voting Democrat.
In addition to a record number of women and LGBTQ individuals winning elections, this year's election made history with a dramatic surge in the number of votes coming from the youngest generation. While just 49 percent of eligible millennial voters turned out to the polls in the 2016 presidential election compared to 69 percent of baby boomer voters, according to Newsweek, the midterms showed a record boost in millennial turnout in states like Arizona, Florida, Georgia, Illinois, Nevada, and Texas, and they overwhelmingly voted blue.
In 2014, historically low turnout dubbed millennials the "silent generation," although this year's mobility showed that the tide appears to be turning in wake of Trump's controversial policies. According to a Monday, Oct. 29 survey from Harvard Kennedy School's Institute of Politics, 40 percent of voters under 30 said they would vote in the midterms, compared to the record low of 19.9 percent that voted in the 2014 midterms, according to the Center for Information and Research on Civic Learning and Engagement at Tufts University. Per the survey from the Harvard Kennedy School's Institute of Politics, 54 percent of voters who said they'd definitely vote this year identified as Democrats, compared to 43 percent of Republicans and 24 percent of independents.
The Harvard study also found that over a third of millennials polled described themselves as unaffiliated with a political party, compared to the 41 percent who ascribed to be a Democrat and the 21 percent who identified as part of the GOP. However, early voting found that President Trump's polarizing rhetoric and policies has created more of a divide among the age group. The study found that 68 percent of those surveyed disapproved of the Trump administration's work thus far, compared with 26 percent who said they still approve.
While the Democratic party gained control of the House of Representatives in the midterms (and the ability to subpoena and call investigations into the Trump administration), the Republicans still hold control of the Senate after several close races went red. Increases in early voting in battleground states like Texas and Florida were not enough to turn the states blue. However, it seems that the country could see more millennials being energized to vote in coming elections due to climbing approval for traditionally liberal measures like gun control reform and lower health care costs — and from the numbers, it looks like this uptick in mobilization could be here to stay. Following the election, Debra Hauser, the president of youth advocacy group Advocates for Youth, said in a statement shared with Elite Daily,
A youth wave is sweeping this nation, and yesterday was just the beginning. Young people are outraged by politicians whose rhetoric and actions embolden extremist bigots.They don't accept this world of racism, misogyny, transphobia, homophobia, Islamophobia, and anti-Semitism, nor the violence and harm that goes along with it. In record numbers, they voted for change.
Could millennials care enough to make their voices heard in the 2020 presidential election? It sure looks like it.