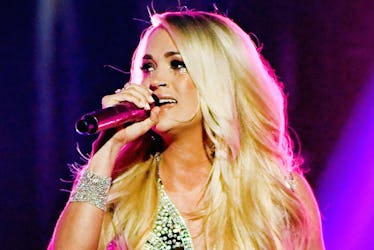 Carrie Underwood Just Revealed The Story Of How Her Face Injury Happened & I'm Cringing
Carrie Underwood has finally revealed the details of the nasty fall that caused her to need 40 stitches in her face and left her with a broken wrist. The singer, who made her official return to the stage after five months of concealing her face post-injury, opened up about the incident on iHeartRadio's The Bobby Bones Show podcast on April 19. So how did Carrie Underwood injure her face? It apparently happened in an event that usually goes off without a hitch: She was walking her dogs.
"I was taking the dogs out and I just, I tripped," she said on The Bobby Bones Show on April 19. She continued, "There was one step and I didn't let go of the leashes. Priorities! So, that's why my left hand is fine. I went to catch myself and just missed a step." She said it was missing that step that caused her to hurt her face and break her wrist. "If I would've fallen anywhere else I would've looked just fine," she said. This is a... surprisingly anti-climactic story given how bad the injury ended up being. But that just goes to show how quick and easy it is for anyone to sustain a major injury. Hell, I broke my wrist jumping from a slide that was only two feet off the ground when I was in sixth grade. This stuff can happen anywhere, at anytime. And it clearly shook Underwood's confidence a lot.
Underwood announced her injuries in a tweet on Nov. 12, 2017, and gave fans more insight into the incident in another tweet on Nov. 15.
The tweet said, "I just wanted let everyone know that I'm doing great. Had surgery on my wrist yesterday & all went well...even though I'll be setting off airport metal detectors from now on...I'm so thankful for the doctors, nurses, family & friends who've been taking such great care of me."
In a post obtained by People that she wrote to her fans in January 2018, Underwood detailed the extent of her injuries without revealing the cause. She said in the post,
There is also another part of the story that I haven't been ready to talk about since I have still been living it and there has been much uncertainty as to how things will end up. It's crazy how a freak random accident can change your life.
She continued,
In addition to breaking my wrist, I somehow managed to injure my face as well. I'll spare you the gruesome details, but when I came out of surgery, the night of my fall, the doctor told Mike [her husband] that he had put between 40 and 50 stitches in. When I am ready to get in front of a camera, I want you all to understand why I might look a bit different.
Underwood was apparently ready to get back in front of the camera by the time of the Academy of Country Music Awards (the ACMs) on Sunday, April 15.
She posted her first selfie since her fall on Saturday, April 14. It was a selfie from her ACMs rehearsal.
She captioned the post, "Had a great rehearsal for the @acmawards! Can't wait until tomorrow night! #CryPretty #ACMAwards." Fans noticed that her face looked blemish-free in the selfie and during her performance of "Cry Pretty" at the ACMs.
It was an emotional performance that Underwood cried her way through.
And Underwood was reportedly a nervous wreck before the ACMs, so she skipped the red carpet. A source told People, "She ended up skipping the red carpet because she didn't want to be bombarded with questions about the accident," adding,
It's the most shaken anyone has ever seen her … this whole ordeal. She was terrified of people seeing the scars. Her hair and makeup team must've been under so much pressure.
Despite her nerves leading into the show, Underwood crushed her performance and fans are happy to have her back.