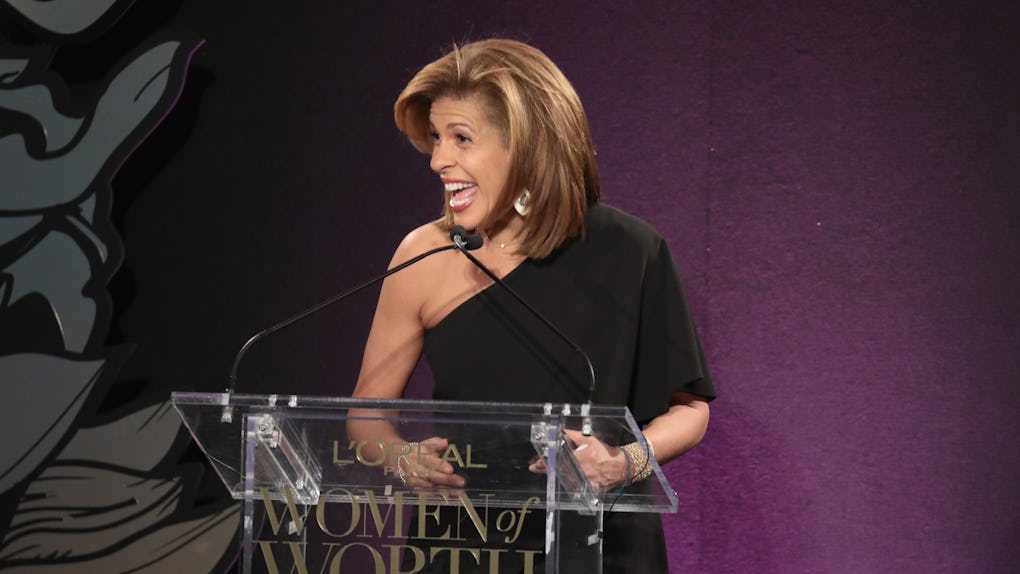 Cindy Ord/Getty Images Entertainment/Getty Images
Hoda Kotb Is Replacing Matt Lauer On 'Today' & People Are So Excited
On Tuesday, Jan. 2, NBC announced a staff change, and people seem to be taking the news very well. The network announced that Hoda Kotb is replacing Matt Lauer on Today permanently. The shift represents a big moment for the talk show, and for the larger picture of women in television.
Kotb will join Savannah Guthrie for the first two hours of the popular morning show, while also keeping her fourth-hour spot with co-host Kathie Lee Gifford. The network reports that the announcement came in a memo from NBC News Chairman Andy Lack. The decision came after Kotb had been filling in for former co-anchor Matt Lauer after he was fired on Nov. 28 due to allegations of sexual harassment by a female colleague. In a statement in November, Lauer said some reports of harassment were "untrue or mischaracterized, but there is enough truth in these stories to make me feel embarrassed and ashamed."
Lack wrote in the memo about Kotb,
"Over the past several weeks, Hoda has seamlessly stepped into the co-anchor role alongside Savannah, and the two have quickly hit the ground running. They have an undeniable connection with each other and most importantly, with viewers, a hallmark of Today."
Kotb made her official debut as co-anchor on Tuesday, with her name announced alongside Guthrie's for the first time in the show's opening. Guthrie started the show by saying, "It's 2018 and we are kicking off the year right because Hoda is officially the co-anchor of Today. ... This has to be the most popular decision NBC News have ever made and I'm so thrilled."
"I'm pinching myself," Kotb said. "I think we should send some medics to Alexandria, Virginia where my mom has likely fainted after hearing the open to that show."
The love for Kotb was echoed by many stars and big names from both NBC and beyond.
"Congrats to the awesome and talented @hodakotb on her well-deserved new role as co-anchor of @TODAYshow. Love you Hoda!" tweeted Megyn Kelly, who hosts Today's third hour.
"Congratulations @hodakotb Just officially named new co-host of @TODAYshow along side @SavannahGuthrie," tweeted NBC Nightly News Lester Holt. "What a great team to wake up to!"
"So happy for my dear friend @hodakotb !! Congratulations on being named the new Co Anchor of @TODAYshow !! Nobody does it better!!" wrote Gifford.
While Guthrie has co-anchored the show since 2012, per NBC, this is the first time Today will be co-anchored by two women. The shift breaks the one-man, one-woman standard dynamic. Guthrie and Kotb, in a joint interview with People, discussed what the change meant.
Referring to the man-woman standard for anchors, Guthrie said, "We're grateful to NBC for not having some old fashioned notion about what should be."
And for Kotb, honoring the natural dynamic was the right call. "When you click with someone, man, woman, it doesn't matter. If it works, it works," she said. "We're sort of like sisters."
People on social media seemed more than welcoming of the change. With the hashtag #SavannahHodaTODAY trending on Tuesday morning, users overwhelmingly expressed their approval.
As an Egyptian American, Kotb also represents increased diversity in the show's lineup, and it didn't go unnoticed.
Lots of users also commented saying that Kotb was the right pick for the job and deserving of the promotion. With experience anchoring since the 1980s, her résumé is pretty impressive. She's also an NBC veteran, and comes to her new role with years of experience with the network. She began at NBC in 1998 as a Dateline correspondent, filling in as co-anchor on the morning news show occasionally. In 2008, she started co-hosting the fourth hour of the show with Gifford.
With the new year, the change at NBC seemed to be perfect timing. Toasting the promotion with champagne at end of the show's second hour, Guthrie said, "This is a new day on Today and there is so much to celebrate."